Short Version: Guy Lawrence is a coach, speaker, wellness advocate and entrepreneur. He is the co-founder of Live In Flow. A program designed to help people remember who they truly are, and bridge the gap between the life they live and the life they truly want to live.  This is facilitated via live workshops, intensive retreats, and an online group coaching program. He also supports people via his podcast called 'Let It In with Guy Lawrence'. These include conversations with pioneering experts that go well beyond conventional health, wealth, and wisdom to inspire change in our lives. All episodes are freely available via Youtube, iTunes, Spotify & Stitcher.
---

Picture this…
You spend the first 33 years of your life trying to figure it all out. You wander the world like a nomad with no real answers to be found. With a restless yearning inside, you avoid any sort of commitment and ask yourself daily if you've gone crazy… will I ever resolve this?
You then wake up one day and take MASSIVE action and become seriously committed. From there you dig a big hole for yourself over three years and end up $30,000 in debt from day trading the stock market. The universe then intervenes with a series of random events that knocks you around and asks; are you really listening?
And then you truly wake up. You decide to do something deemed as crazy. You follow your heart without question… without caring for consequence…. do or die… you're doing it!
Without any business or internet skills and no money, you co-found an online health and wellness company called 180 Nutrition. Within three and a half years you help shake up the supplement industry, become a multimillion-dollar company, and nominated for Australian Business Telstra Awards finals.
You begin to trust this whole following your heart thing and then start a podcast. The podcast hits number one in the health section in iTunes, gets millions of downloads and you get to talk to some of the leading experts on the planet in wellness. This opens you up to a new world of possibilities that you didn't even know existed… neuroscience, quantum physics, neuroplasticity, epigenetics… and even though these words sound complicated, you realise when applied they are a GAME CHANGER… Like life-changing game changer.
You can then keep this information to yourself or try and help others. Filter the technical aspects to make it practical for daily life. So what do you decide to do? You listen to your heart once more… you don't fight the deep yearning inside. You step down from everything you knew to allow in everything you could become. You get out of your own way, start a new podcast and you 'Let It In'.
And this is my creation to help you too.
Welcome to my website. I hope you stick around. Are you ready to Let It In? 😉 G.
---
In The Media 
Below are some of the articles I featured in with my previous company 180 Nutrition which grabbed national media  attention.

Body-conscious teens take risks with protein powders
The Age | Sun Herald | March 24 2013
Personal trainer Guy Lawrence was working with cancer patients when he decided to recommend protein powders, in combination with exercise, to help them recover their health.
But when he took a closer look at the labels of many of the powders on the market, he was appalled at what he found. Read Full Article Here.
---
Protein supplement business an internet sensation
Sydney Morning Herald | August 02 2013
Surf lifesavers on the weekend and small business kings on weekdays – meet Stuart Cooke and Guy Lawrence. These entrepreneurs are riding the crest of an ecommerce wave with their online nutrition company, 180 Nutrition. Their range of protein supplements has been an internet sensation, amassing more than 7000 customers. Read Full Article Here.
---
Australian Telstra business awards state finalists
Australian business owners have been invited to stand up and be recognised in the Annual Telstra Australian Business Awards.
The idea behind NSW finalist 180 Nutrition came to Stuart Cooke and Guy Lawrence while they were on patrol for Coogee Surf Life Saving Club in 2010.
"If two guys from the local surf club with an idea can turn it into a million-dollar business that is recognised by Telstra then hopefully that can inspire anyone with a business idea to put it into practice," .
---
The small businesses that are thinking big in awards
The Telegraph | March 20 2013
A drive to succeed and a determination to overcome setbacks that crop up along the way. These are the qualities of successful business owners – from sole traders running a small venture at home to medium size enterprises looking to export.
Regardless of a business's size, age or profitability, they are not only a crucial part of the national economy, but also our identity as a nation of innovators and optimists.
---
Shaking things up
The Australian | Feb 17 2012
WHILE checking out protein powders and shakes to build the strength of chronically ill clients, fitness trainer Guy Lawrence was shocked to discover how many contained sugar, preservatives and synthetic chemicals. As a result, he decided to muscle in on the industry himself by calling on the help of a nutritionist and health industry practitioner to create a formula using natural, organic and raw ingredients.
---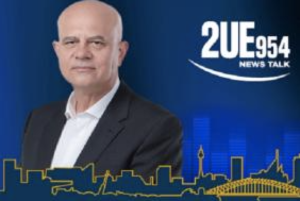 Running a thriving online business
Your Business Day | 2UE Radio | June 13 2013
In this short interview Guy Lawrence talks to John Stanley the host of 2UE's Your Business Day. They discuss how 180 Nutrition have set up and run a thriving business using social media as the only form of advertising…
CLICK HERE to listen to interview.
---
Recent Podcast Interviews Featuring Guy
---
---
---
---