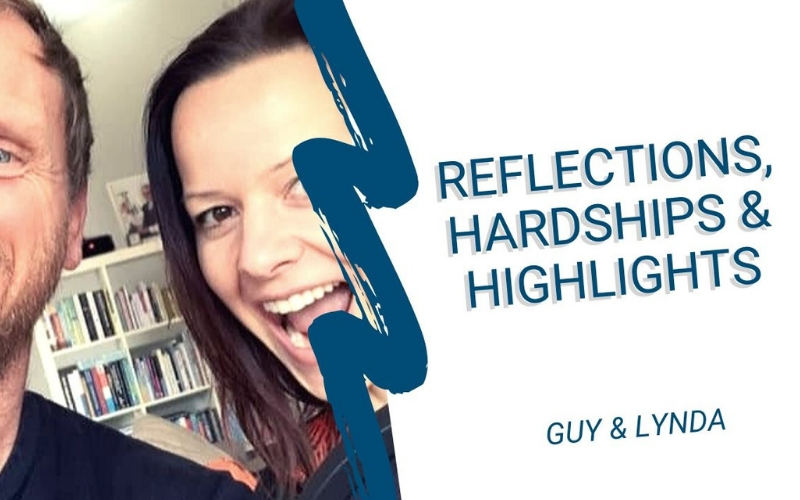 #108 This week's podcast is an intimate and personal conversation with myself and my wife Lynda.
We thought it would be great to share our high and low points of 2019 and the lessons we took from them, and also what we are excited about in 2020. We also dive into my gut protocol I am about to embark on! Enjoy.
Subscribe On:
---
About Lynda: Lynda Griparic is a Naturopath, Nutritionist, Writer and Yoga teacher with close to 20 years of experience in the health industry. Lynda specialises in digestive health, namely SIBO and constipation.
About Guy: He is a coach, speaker, podcaster, wellness advocate and entrepreneur. Originally co-founded natural supplement company 180 Nutrition in 2010.180 Nutrition became one of Australia's leading natural proteins was a Telstra business awards finalist and gained multiple national media exposure or their efforts. Guy also founded the no 1 ranked iTunes podcast 'The Health Sessions' achieving over 2 million downloads whilst interviewing some of the worlds pioneering health experts and New York times best-selling authors.
With over ten years in the health and fitness industry, Guy has also explored many facets of health including what's deemed 'alternative' and the measured effects on the body; from using meditation and neuroscience to create altered states of consciousness, shamanic rituals, cold exposure and breath work to name a few.
►Audio Version:

Links & Resources For Lynda Griparic:
TRANSCRIPT
Guy:                      Welcome to the guidelines podcast. I'm your host Guy Lawrence. After building a successful health company and a number one podcast, I decided to do something deemed a little crazy. I let it go. Set a new destination called the unknown and use my heart as a come. Each week I sit down with great minds as we explore topics beyond conventional health, wealth and wisdom to inspire and ignite that passion that's within us all to create the life for clue one. So my question to you is, are you ready to let it in?
Guy:                      Hello, beautiful people. This is guy, of course, your host. And thank you for tuning into another stellar episode of my podcast where of course I have conversations that go well beyond conventional health, wealth and wisdom to inspire change in our lives. And uh, I've got a cracking episode for you kicking off us, not quite kicking off 2020.
Guy:                      We are now getting into 2020. And on that note, I hope you had a fantastic, um, timeout and you might be still taking time out. Uh, anyway, so this is a bit of a, different podcast, faster, different. Uh, but as myself and my wife, Linda, Linda Lawrence or Linda grip, purchase or work name, of course, a professional name I should say. And we have a great conversation around, um, looking back on 2019 for start. Uh, this is probably my most personal podcast, um, at this stage today. You know, my wife certainly has a great way of getting things out of me and, um, we talk about, yeah, the, the, the highs and the lows of 2019 for self personally. And, uh, and we always, you know, and it was a great conversation because I think, uh, it's a, it's nice to reflect on and take a look back before we just get swept up in a way with 2020.
Guy:                      But also, um, you know, I think there's, there's great things in you that by us sharing a concern, we help somebody else listen into this as well. And, and we get into what we're looking forward to in 2020 and, uh, and many other things that come up as well. So, um, please let me know if you enjoy this conversation. Hit me up on Instagram, guy here to Lawrence Lawrence and, and certainly let my wife know as well on her, her Instagram direct message, her, uh, Linda gripper. Rick naturopath I think is their Instagram handle, if I remember. Anyway, I'm sure you will find this both, uh, there, uh, going into it and, uh, any other updates coming on at the moment? I'll be knee deep in retreats when this is going live. I'm literally just getting ready for the first one. Uh, super excited. Of course, both selling out.
Guy:                      I was just, just can't tell you how much that warms my heart. Uh, if you want to join us, we cover Portugal coming up in April, uh, which I'm pumped about as well. We've got six days in Portugal, so if you fancy a trip to Europe and meeting some Epic people and indulging in this work for a week, then why not come and join us? Um, any other updates I am will be, um, trying something a little bit different this year as well. What? I'm going to be rolling out some group coaching, uh, I'm not sure over what timeframe yet. Uh, and it'll only be for small groups, maybe 10 people max, something like that, um, over a certain period of time. Uh, so if that interests you, um, any of that, just come back to guylawrence.com. Dot. EU. Uh, and go from there and you can drop me an email. So subscribe to my newsletter if you want to stay up to date with everything. I think we're going on tour as well coming up this year. Oh my God is all happening. Uh, so yeah, all that and hopefully I will meet him in person at some stage during 2020 and beyond. Anyway, much love from me. Enjoy this, uh, beautiful, um, intimate conversation with myself and my wife.
Lynda:                   Hello. Today I have guy Lawrence, my husband on the podcast with me and myself. Actually we thought we'd do something really casual and cruisey for the end of the year. Whilst I take a tiny bit of a break from, uh, uploading new podcasts, I might recycle some older ones. I'm very, very popular one, so please look out for that. Uh, but I'm not decided yet. How long will it take? Some time off, maybe a couple of weeks, maybe the full month of Jan, but we shall see. But nevertheless, we have the fabulous Guy Lawrence on the podcast. Welcome to love and guts.
Guy:                      Thank you. And I'm, I'm glad to be here. You probably have no idea what we're going to talk about. Well, I'm not sure. All I know is that we, we, we spoke of doing a bit of a duet, a podcast cause we don't, we don't come on each other's podcasts that often, uh, surprisingly so we need to be doing more of this.
Lynda:                   Yeah. Yeah. And if you guys have any questions for us that you might want to know that you might be interested in, that might benefit you, then feel free to send them through so that we have something, some ammo for the next, do it that we do together. But today I guess I just wanted to go through the challenges and the highlights of 2019 but also, you know, um, also some tips and tricks for our listeners and what's in store for 2020, maybe let's just see where the conversation goes. Could just be a complete ramble, but, so let's kick off cause it is quite hot here in, in our little home or we were sitting in the kitchen in the lounge room sort of thing. It's hot here in Byron Bay fan on. We'll get the windows close. We don't have any of the outside noise. So it's needless to say, quite sweltering, but it's okay. So let's start with that first question. What's been your biggest challenge in 2019 you are studying? I'm asking you the question
Guy:                      for off the cuff. My biggest challenge of 2019. Um, there's, there's so many, there's challenges every day, but I think, I think my biggest challenge of 2019 what would it be? Oh my God. Uh, it would be having to learn to continue to surrender into what I'm doing. Um, and I think with everything, you know, cause, uh, I two years ago I stepped away from one 80 nutrition meal company and lean in and the very things I teach, um, but I, I realized there's, there was definitely an element of myself during 2019 that, um, felt a huge amount of responsibility to others and, and it was really interesting dynamic having that grow with me. So obviously I looking after, uh, people coming through the retreats and then the workshops and then with memberships and, and it's almost like there's an element of not being able to allow myself to have time out because I feel this responsibility, which is really interesting.
Guy:                      And that fed into a stress from that I think, and an element of pushing and not surrendering. Um, so the very things that I teach and do, I guess I was losing sight slightly of the very fundamental things from it from maybe, um, yeah, from that, that whole aspect of it. And it really started to catch up to up to me towards the end of the year, just feeling exhausted, just absolutely feeling exhausted and feeling the, the, the spark starting to not be as there, as bright as it is and really, um, having to listen to myself and, and take a step back to a degree. Um, you know, and, and funnily enough, but that was all from a mental side of things because it's almost the aspects of, um, the, there are men, there's a great say in those police, police was principal, you know, focus on the 20%, the skinny 80% of the results.
Guy:                      And it's quite often when you work for yourself, you can end up having to, you fill in time with stuff that might not necessarily be that effective, but you can then justify yourself for be busy and working hard. And, and that's a real interesting dynamic when it comes to, um, running your own business. And especially with the work I do. Um, when you are working with, uh, especially in the live workshops and things, when you're working with energy, um, it's, uh, it can, it can really not kick you around for days. So then when coming back and then having a, you know, a ton of emails to do or things and, and not allowing myself time to breathe and let go. It's, you know, it's just my own actions and my choices. Who is, it's forced me to look at the way I run my business, the way systemize things, the way I, um, work with people, and then obviously create my own boundaries more, which is really important. And it's all my own doing, which most of our things are anyway. So I think that was my greatest challenge at 2019
Lynda:                   and it's ongoing, isn't it? I think that you, you, I've watched you step away, like I said, from one 80 into let it in and doing the retreats live in flow. Uh, and then having to process what comes up for you during the retreats and even during the workshops or even during the masterminds that you, you do on in your online programs where it will be like an online intention meditation or your just meditation, um, group calls. You would come back and you would experience certain things and I think that you're, you've come a massive, you've come a long way. You definitely constantly refining how you respond and how you process that. But it's true isn't it? I think when you own your own business there's almost, I know, I don't know if it's true for you or certainly there's an element of guilt with taking time off because I feel like every time is really valuable.
Lynda:                   I could be working on the business. I could be, you know, whether it's the admin or the marketing or you know, the, the podcast or the tea, there's always something that you could be doing. But then I constantly have to remind myself that it's in those downtimes [inaudible] on the holidays or even going to the beach for a few hours and not opening up your phone when the inspiration happens and when you might decide to change things that maybe weren't working. You know, we were a bit stagnant in your business and I think that that downtime is just equally as much of an investment in your business. Then the act of the doing, you know, the, like you said, keeping yourself busy even though we're not necessarily maybe doing the things that are going to be growing the business all the time, but just keeping ourselves busy doing admin perhaps.
Guy:                      Absolutely. Yeah. I learned that, you know, that's been my biggest challenge on, on a, I guess from a Workfront and business front or on a personal level. There's obviously other things that have been going on for us this year as well. But I felt that would be better for you to be talking about those things. I myself, um, you know, so that was my biggest challenge anyway.
Lynda:                   And you, my biggest challenge when debt well would definitely be the miscarriage that we had in March this year. That was huge, you know, and, and that, the whole journey of baby creating, you know, of fertility has been a roller coaster ride. But you know, it's been, um, a challenge in an in a traumatic and devastating way, but also very, um, I wanna say marvelous, but it doesn't feel like the right word. It's like when you can really Marvel at what your body is capable of. I remember at the time I had the miscarriage in the way that sort of was expelled from my body, the um, the soul or the, the embryo. It just, I was in such Marvel at what my body was capable of doing, like the animal that it is, the beautiful animal that it is. But it's just been, it's been a massive year on that front, that whole journey.
Lynda:                   And even for us in our relationship, trying to, someday I really want to write a book just talking about the challenges of, um, fertility and really wanting something, you know, like, like a baby in your life. And how it's not coming as fast as you would like for it to come and sort of the pressure that it puts on your relationship and how you really need to nourish each other and nourish your relationship during the whole journey. Cause I feel like there's such potential to for that whole project for want of a better way of saying it, to drive a wedge between your relationship. And so I think that this year we were really good at supporting each other and I think just, you know, yes there's been some really stressful times and heartbreaking times, but we always sort of made our relationship a priority as well. Well I know I certainly didn't. I'm pretty sure you did too. So. So that's,
Guy:                      and it was, it was. Yeah, for sure. I knew it was something I wanted you to mention the podcast first, not myself. Hence why I talked about my business struggles cause that was obviously a massive challenge for me as well. And a really interesting point. One from feeling a bit helpless. That is when you were going through that and just being able to be there for you. And, and, but also the, the grieving process for me that came from that as well because as a man, it, it not having children, you know, the, it's a really interesting dynamic and actually adjusting myself mentally and, and getting used to, Oh my God, I'm going to be a father. This is going to be, you know, and then gearing myself up for only if to have it taken away, which really, um, was hard. And it really reinstilled to me how much actually I did want to be a father. Um, which really changed my whole perception around everything. So for that I was grateful Bernard, obviously the, you know, the uh, what is we, we go through the process, you know, and come on the other side.
Lynda:                   And I think it's so important to remember too, like men are a big part of this as well. And so whilst us women go through the physical act of losing the baby and all of that sort of stuff, there's, you know, the, I remember one distinct moment when we were planting a tree in honor of the baby. And I popped the, like the, the, the material that passed, but I passed at the bottom of the, the soil and planted the tree in top. And you know, cause we started to call her olive at the time. And so we were given an olive tree. So we planted it. And I was just doing that in ritual on my own. And you came out and I remember at that time, you, you held me and he said, I hurt too. Like this. This hurts me too. And I was, I, you know, even though I knew that, I kind of kind of really understood how much you were affected by now we're both getting to you, but how much you were affected by it too, because it's your loss just as much as it is my loss.
Lynda:                   So, you know, we really need to support men in our lives that go through this journey to grow the man. Absolutely go the hot and the bloody couples that go, you go through this, it's huge. So I think that's been my biggest challenge. I think probably let's move on to highlights then because there's not been any massive challenges in business for me. I think there's always, there's always, um, little gripes here and there, but I think it's not been a massive challenging work for me. So that's, that's been good. So let's talk about highlights, but your biggest highlights or your biggest wins, however you want to kind of label that
Guy:                      highlights would be. Um, it has to be, for me, the, the retreats hands down. My biggest highlights, um, for, you know, in, in 2019 we held three retreats. So beginning of January, 2019 was a maiden voyage. Uh, you know, three of us. I teamed up with, uh, of Petrobras Virtua, Domo and then we did two more in August, uh, in winter and they all sold out. And, um, it was just for me to, to, to have something come together like that, that has been innate in me for many, many years. Even way back when I first started one 80 nutrition, like this was the kind of direction I kind of innately knew I wanted to go work with people at a volume in, in an intimate space and help people even though I didn't know what it looked like back then. So to really see that come to blossom in its first year and do so, so well on so many levels and then being a part of that and witnessing the impact and the changes in the healings and the many things that come out of just three full days does really, um, really sat with me deeply, you know, and it's not not just hot air or Aurora or, or talking things up like it really has been having huge impact and include it on my personal life as well.
Guy:                      And it just continue to reinforce to really hold dear to what it is that whatever's within your heart and whatever it is you want to do in life to really listen and honor that. And it does take courage and you do have scars and your back connect and it is fucking hard work. And it is terrifying and all those things in there. But guess, I suppose part of being human as well. And it's just a constant reminder to keep leaning in because I think to myself, shit, one of them is if I, if I didn't listen to that while I was, if I didn't honor that and I just continued to just take the easy route, um, there's no comparison. So for me that, that, that's been the highlight I think [inaudible] cause that was having the most impact. But there are so many other things along with that. It's just wonderful. But um, yeah, and you,
Lynda:                   yeah. What I want to say to that though, the irony is that, um, if you took the easy route, like I said, and not lent in and kept going with your passion of creating this with, with two other amazing people, you would be miserable. So how is that the easy route? Do you know what I mean? Like I kind of go back to when you were done with what you were doing in your previous job, when you just needed, you had itchy feet to move forward. You were miserable like you were, you were like, you were down and you were so done. And that wasn't easy, wasn't easy on you. It wasn't easy on us. Like, you know, I don't consider that to be the easy, it's the known, but it's not the easy route. So isn't that the irony of the human being like, well, we just don't make sense.
Lynda:                   And so times, and also I think with you guys leaning in and you know when you're kicking something off can take some time. But I've just watched people who have, um, responded in a way that has changed their life, their quality of their life for the better, and they've stepped up to help you guys. And that's happened multiple times because people want to see you continue on doing what you, what you both doing, what you're all doing. So, you know, that's the Testament to leaning in when you, you know, you can kind of continue while. And when people, when you know that people are interested, people want you, like what you're wanting to deliver is what they want. You know, it's changing their life. It's what you've really been a massive support. So therefore they want to step up and help you guys out too. Yeah. So, um, yeah. Congratulations.
Guy:                      Thank you. Well, we only four days, five days away from the gen two more retreats. We doing them back to back because we're recording this. So it'd be 64 more people we'll be working with. So, yeah.
Lynda:                   And hasn't it been massive that you like for all three of you to not work solo as well? Like having yeah, for like, especially you and Matt, just having the support of each other and you know, not just going out there alone, doing the work that you're doing and carrying and holding the space for so many people. I think I've watched that be amazing for the free of you.
Guy:                      Yeah. And, but, but, uh, the, the last thing I'll say on that as well, it just amplifies it by, I don't know, 10, 20, like when you combine three forces together, there is some magical synergy that comes from that that just can't come from working by yourself, I don't think, you know, which even makes it more special. So,
Lynda:                   yeah. Yeah. Highlights. Well, I think there's, look, there's, there's highlights that I probably can't speak about right now and that would be my main highlight, but I think there's been a few. I think when it comes to business, my podcast has been amazing and that I've, uh, some people that I kind of had in my sight to have on the podcast, have had on the podcast, which has been amazing. And it constantly challenges me. It makes me sharpen my soar in clinic, which just I think I need and I love and I don't ever want that to stop. Um, I've now got some amazing sponsors for the podcast, which has been great for us, the longevity of the podcast. And they're handpicked sponsors too. So people that I, you know, I trust and I find them to be ethical companies. And so I think that's been amazing.
Lynda:                   Um, in the whole fertility journey. I've had some great people that I work with now that have just been, you know, I'm just so grateful to be in their space and, and for them to carry me along and as I need it, you know? Yes, I'm a naturopath, but fertility is not my area of specialty. And yes, I could fumble my way along. But isn't it great to get that support even for a practitioner? It's like a psychologist going to see a psychologist. You know, I've had some great people like dorm Whitten who has supported me all throughout and will continue to when I do have a baby, we'll for breastfeeding and whatever else comes up and some amazing people, some amazing, amazing other people. Um, which I won't get into now. But yeah. So I think, you know, just connecting what in a nutshell, doesn't it sound like what I'm saying is connecting with all these amazing people, you know, whether it's the podcast to the, to the sponsors, to the people that have helped me in the fertility journey and clinic has gone off the Richter this year. So that has been fantastic. I've just been loving the influx of um, new and regular patients and just the challenges there and my, and I feel very grateful to be able to support people, you know, so that they're able to um, get the better quality of life that they desire.
Guy:                      Yeah. Well I've been watching, obviously I get to see what goes on up close and personal behind the scenes of you then the way you go and you know, a watching how much dedication and hard work you do put in. Cause I think, uh, you know, if your patients will be listening to this, hi, hello. If I met you before. But, but, but it's important to know because the amount of effort you put into the, the, the stuff afterwards, the scripts and everything, putting that together for, for people is huge. Like I used to take it all for granted when I used to see a practitioner in the past. That and then seeing the way you work and then not only that, the research that you actually put in constantly learning different webinars and different educations that you're constantly on top of, cause the, the industry and the dynamics are changing all the time. And then the amount of research you put in for your podcast guests, Jesus Christ. Like I am so impressed.
Lynda:                   Don't say that. I, I can't say that I've put research into this one, but not the most casual one I've ever done. You sit down, do these podcasts courses. Yeah, no, that's what I got.
Guy:                      Um, but it's, it's amazing, you know, and, and, and that inspires me. And then to watch your journey, um, and especially this year is just, it's all come together and it's been flourishing, which is just been brilliant. And the watch your podcast is take off as well and go from Sorento, Scranton, the people you have on and sharing that information with other people. You know, it's inspiring. And, uh, I'm always inspired to speak more clearly and stop mumbling on mine cause you speak so well and uh, and yeah, it makes me raise my game too.
Lynda:                   Isn't that funny? You may think I speak well, but it's funny how what you actually perceive how you speak. I always feel like that would be awkward. The chick from the Western suburbs, a bit rough around the edges sometimes, but, but ain't going to lose my name. I'm not going to let go of that, if that makes sense. So speaking of our podcasts, because you have one too by Lawrence podcast, quite an original name there. If you haven't listened to it people and you're interested in a spirituality transformation, creating a better life for yourself, manifestation, even channeling all of that sort of stuff, you make it sound so it's a complete opposite. It's not, it's scientifically in neuroscience. I should have said that first. And so quantum physics [inaudible] Jesus Christ. No, but if you're interested in that and [inaudible] likes of people like Bruce Lipton and uh, Jodie Spencer and um, who else would be had on there? But I wanted to talk about that. What's been your favorite podcast of 2019 and maybe we can bring it down to two and I'm sure there's more, cause I'm putting you on the SWAT and I'm going to be put on the spot here too, cause I haven't had time to think about it. But what's the first two people that come to mind that, that have really had much impact on you?
Guy:                      Oh, that's a ridiculously hard question because I genuinely loved them all. I, Oh, um, look, in terms of, I guess having Bruce Lipton on this year was, was just amazing and actually really connect him with them. We had a good chat after the show as well. That was awesome. To have somebody that's had such a huge influence in my life come on and just, um, having an amazing conversation was just brilliant, you know. Um, and it was a fantastic episode. So stuff like that will sit with me for, for, for a long time. Um, the, the, the one I loved as well was just one I did the other day was um, was mid shorts, uh, DMT, the spirit molecule, the movie maker who made that documentary. There was just something about that show that we just had a great time, a great connection and, and the topic is so far down the rabbit hole, it's not funny.
Guy:                      And, and in some respects it shows how far I've come in own in my own self and openly wanting to explore and talk about these topics. Because I remember it wasn't so long ago on the last podcast, I, I could, you know, I did not go near these conversations because of the brand and because of, uh, who I w you know, what people think and all this kind of stuff. So, so to have Mitch on and talk about these conversations, if you don't know what DMT is, then great can check out the episode. Um, was just wonderful. So to me that was another highlight. So maybe not the right reasons to actually, um, single out to I, I would really struggle because there are so many highlights through there. And, and I really try and keep them as varied as possible even though we, it's, yeah, there's so many different things to it.
Guy:                      So hopefully that answers it. And you've actually done a podcast and your top five, is that right? I did. I recently did one. It's just of, it's a, it's actually goes out tomorrow so it'll be up at the time people are listening to this. And again, uh, I, I every year I have a tradition called the best of down the rabbit hole and I've done this ever since I started podcasting and, and I do put five together that I guess have left an impact to me. Uh, Bruce Lipton's on the mid shots wasn't on there cause they only released it last week and I didn't feel it was right to play bits of it twice. Um, so yeah, that's there as well. But I like, I like, I like actually go and take the trip down memory lane and reflecting on the year. It's a nice way to actually acknowledge the achievements that we do cause we can get so caught up in what we do. We never stop and reflect on things. So for me it's more of a reflection. And then I go through and look at this stuff and then just share a little bits of ones and why they meant so much to me. Yeah. She didn't do something like that
Lynda:                   bloody hard, bro. I look at you stitching it all together, it'd
Guy: be bothered and maybe next year I would do that. And there's not somebody in something I want to outsource either and pay, you know, my VA for something because it's personal and the idea is to, is to control library and reflect on it. Yeah. So yeah. So for those that do not know what DMT is getting, just gives a bit of a snapshot. Sure. Da DMT is what's called a dimethyltryptamine. It is a molecule, a hormone that is found in every living thing. Um, every organism we produce it naturally in the body and very small amounts is thought to be produced from the pineal gland along with other hormones like serotonin and melatonin and so forth. And, uh, dimethyltryptamine if you produce enough of it, it's almost like creates a, um, what's the best way, uh, a radio on tenors. It's like a, um, it's also found in psychedelics and it's, they say it will reveal, removes the veil of reality.
Guy:                      So we actually see less than 1% of information that's going on quantum physics proven. And if you produce enough death metal tryptamine, it can actually allow you to get into a whole brain steaks you see with your brain, your eyes, and then you can tune into other, I guess, um, parts of reality that is normally filter just through our five senses. So it's, uh, it's quite a profound experience. Mitchell's made a whole documentary on this and he teamed up, um, with, ah, what's his name? Oh my God, I'm going to brain fart. Um, and they made a documentary where they actually did a clinical study in Canada in the 90s on a hundred people with domestical tryptamine and looked at the psychological effects, the healing effects. And it was incredible because they took people from all sorts. I was just expecting like long had hippies candidate. They praise far from it. They had lawyers, physicians, mass with all sorts of people, you name it. And, and it was incredible. So they made a documentary on it and it's an eye opener. It is an absolute eye opener, but it's a, it's a wonderful documentary. I think Mitch said has been viewed by their estimated over 60 million people. So that's, that's quite an impact when you think about it. Yeah. Yeah.
Lynda:                   Okay. Now I have to answer this question and I've cheated by pulling up my [inaudible] because there has been a few and you know, I think that if they'd been earlier on in the year, I might just forget them, but I guess the first two that sort of came to mind were, let me just, let me just have a bit of a squeeze through here and see if there's any other ones that I kind of actually, here we go. Alright. Alright. Alright. I'm going to just choose to go with it. So I guess the first one that I, that comes to mind straight away without even looking at the, this was dr Mark Pimentel and um, for many reasons I think I tried to get him on a couple of years ago and there was like crickets got nothing back. And I actually think it was a bit divine intervention that I got him on this year instead when I was a bit more, um, you rehearsed in the, in the podcast world and I was more confident and all that sort of stuff because he is someone that I followed for some time is a bit of a legend, the space of CBO and in space of IBS.
Lynda:                   And um, and so obviously that's a big area of where I practice. And so having to, having that conversation with them and even better, it's even better when they are just the most humblest awesome people to talk to. And he was that for me. He was just easy to talk to, you know, we had the conversation just sort of carried really fluently. You know, I was hungry for the knowledge, I had lots of questions and it just felt like I was sort of playing in my playground sort of thing. And I just loved the fact that he was just an um, he took the time to chat with me and that is on a bigger mission to get the sort of message out about the newer research of irritable bowel syndrome and CBOE and the newer testing he's sort of created. And um, yeah, he was just a real nice dude, you know, I've really enjoyed my conversation with him and the other one, Oh, actually Jesus too.
Lynda:                   It's terrible. No, there's terrible. They gave me two actually that you only did the one. So I guess the next one that, um, the next one that kind of is I guess, interesting to me that I've kind of felt was really awesome. And, and you guys love this one too. This was a podcast that was shared many, many times over. And it was my conversation with natropathic Leah Heckman and we spoke about, um, endometriosis and really in detail. This is her area. Um, you know, we, we just left no stone unturned and it was a fascinating conversation layer. Again, was just awesome to speak with. You know, um, like I said, you guys loved it because it was probably one of my most shared podcasts this year. So if you haven't listened to it, go and listen to it and it's episode 125. Um, and I do want to mention one more just to be a bit selfish and it was because it was just, he took me off guard, but I would love it so much and it was a conversation I have with Rhiannan Hartington Harding, him and we spoke about male infertility.
Lynda:                   So, you know, I wanted to bring to the table, um, the males part to play in obviously fertility and we had a great conversation. Again, it was fun. [inaudible] a legend. I really enjoyed my conversation with her. Um, and again, this is her area and you know, I thought it was an important conversation to have. So there's so many more. But those are the ones that kind of spring to my mind, you know? I know. Beautiful. So where do we go from here? We've got a few more questions, but what about 20, 20, the new decade. What kind of new thing do you want to welcome in for 2020 be thought about it. I'm very clear on where I'm going.
Guy:                      So systematic progression. This is a progression cyst, you know, I think the, um, the one thing I've learned with all this and then anyone listening to this, my advice would be is to get clear on what you want. Um, and if you're not clear, stop moving anyway and the clarity will come as you move. And for me, like it was always going to lead into the retreats, you know, and it's taken me seven, eight years to move into this area to get that. So next year for me on a bit, on a, I guess a, I don't look at it as like work anyways as part of who I am. So I'm very clear on that. And, and, and, uh, taking, taking the next steps to grow into the future vision that in a group coaching I'll be, uh, getting clear on as well and work and I've kind of avoided the, the one avoided the one on one coaching and stuff purely because retreats is where I think I love the impact, but I also think a group group coats small groups, I'll be able to coach quite well as well that would support this work in a deep way, in short space for there.
Guy:                      So yeah, I'm thinking a bit of traveling. Nice. I'm going to Portugal and April anyway, so,
Lynda:                   yes, yes. Which I hope to meet you.
Guy:                      Yeah, yeah, yeah. So, uh, yeah, well I'm, we'll see and a lot of it I'm sure will unfold as, uh, as it goes on.
Lynda:                   Excellent. Um, me like you, I think it's just a progression of like I think every, I don't really have new year's Eve new year's goals, but I guess you do start to think when you've got a bit of time out, a bit of time away from clinic or what you do the day to day basis of what you want. Definitely. I have babies on the scene in 2020. Um, that's definitely something I want to welcome in. Um, I definitely want to keep welcoming in how many times can I say definitely welcome, uh, more growth in clinic, but I want to, and this is a constant battle for me and every single year I'm getting better at it, working better at my time management, so working more efficiently. Um, I spent a lot of time on certain things and I think that that sometimes isn't necessary. It probably comes from a place of feeling like I don't know enough.
Lynda:                   Half the time. And when I do, you know, it's like I'm constantly devouring stuff and just going above and beyond, which isn't necessarily a bad thing, but you know, I keep certainly keeps me on my toes, but I'd like to be able to, um, I guess just just work better with my time management, you know, and just really continued to trust. Um, trust the love for what I do. You know, I have such a joy with what I do like, like you are leaning into what you do with the retreats and the online Academy and everything. Totally lean into that joy in that trust and that, that guide me, you know? But I don't have any hard and fast goals for 2020 health wise.
Guy:                      Well, I'm about to do a gut protocol with you. Okay. The other thing I want to bring, I'm definitely going to bring in is more play. You've mentioned that today. I want to continue to try things and do things that I would never normally do in a playful manner and have no, I've left that slip a bit. I've got into certain routines, like I go to yoga three times a week, I go to the gym, you know, ice bath once a week. And there's some great habits I have and things, but I need to inject a little bit more playfulness into those so I can continue, uh, my useful ways for many, many years to come.
Lynda:                   And I definitely want to do, do something. Um, like I like the idea of the play. I do want to do something in regards to like challenging myself sport wise. Cause I love yoga and I, you know, PyLadies I like as well. I kind of feel like it'd be a great thing to really challenge myself with something I don't particularly love, but maybe a sport. So not necessarily going to a studio to do a class or something, but participating in an actual sport, you know, like we said we'd do with our children when we have kids, we'd pop them in, we'd make sure that they've got those extra curricular activities, like a sport so that, you know, they don't totally run a muck the weekends. Um, but I think that for us as adults, it's a great thing to anyone who's up for volleyball in the new Orleans, Northern big, not long beaches, Northern new South Wales let me know. I'd be totally up for volleyball and a bit of a fan of that, that game. Um, so tell us a little bit more about your gut health project.
Guy:                      Well, you're probably the person talked to him about dying on me, but um, um, it's something that I've done every year now for awhile anyway. And this is interesting. Um, the whole gut always fascinates me anyway. So, um, once I've come back from the retreats, um, uh, I love all the results in hopefully. So we'll be doing a, uh, a pool test, whatever, whatever the kid is. Um, I was impressed with the kit when you give it to me the other day, cause I'm, I don't know if you've ever had to give a stool sample in the past, but it can get massive quite quickly. So, so this kit was very impressive. When I saw what I had to do with it, I was like, Oh, it needs just a small sample, which is great. And I mean you'll tell him whether there'll be testing for, um, from that and then making any, uh, lifestyle and dietary changes, um, to see you after it goes on the, under the hood. And also I'll be doing a, uh, full blood analysis as well. Can all my bloods done just, just a maintenance as well just to check in. I think that's a really good habit. Do something I'm guilty of. I don't do it enough. Probably 18 months ago once I lost my blood.
Guy:                      So, um, so I've made the commitment and I'm, I'm actually, it's great when you've made that, when you make decisions and you know, you're 100% in, you know, you know, I'm going to do this, this is awesome. Um, things start to move and shift anyway, so I'm looking forward to it. So I'll be starting. Yeah. Was it two and a half weeks time?
Lynda:                   Yeah. Beautiful. So we already have the store kit, which is, we are currently using the microbiome insights stool testing kit. Yeah. So as guy mentioned, it's not like the old day. So maybe in the past when we did the culture based, um, testing who, which wasn't a sensitive, actually you don't see as much in your stool, in your report. You don't get it, uh, as much information you'd have to be, you'd have to do a protest into like a specimen jar and you'd have to get up close and personal, really up close and personal with your poop. Um, and God help you if you're constipated. Right? So now it's great because it's a metogenomic, it's called shotgun metogenomic sequencing of the stool. And I love it. Like I said, it's so sensitive and it picks up a lot, but you only need to use like a cotton Bardens wipe your stool on the toilet paper. Um, so you're not actually getting big chance of getting messy with big chunks. And then you send it off and then we'll get those reports back in maybe two or three weeks.
Guy:                      Are you going to get me back on the podcast? Let you let everyone know.
Lynda:                   And this is the battle people like try working with someone that's close to you, that's quite defensive when they got their creature, creature comforts of certain foods and all the rest of it, even though it's a great food, but it may not be necessarily awesome for them at that point in time. Try telling them not to hype. So this will be a challenge. But yeah, I think it probably leads me into my next question as well. Like if you are, um, thinking about, um, if you had a, you know, you feel a little bit there at the end of this year and you might've overindulged over Christmas or you're just feeling like you need to get on top of your gut health, uh, and remembering that the gut health influences everything, whether it's your mood, inflammatory levels, uh, it can influence your sports performance even, uh, it can influence everything.
Lynda:                   So, you know, it's not just, okay, I've got bloating and I've got chronic depression. I'm going to get on top of that. It's like all of these other areas that are impacted by the gap. So if you want to explore your gut health so that you can improve all these other areas of your life, then probably the best place to start would be to seek the support of a health practitioner. But you could start with the stool kit, a stool test, like the microbes insights. Now that only tests the large bowel. So if you suspect you might have cebo and you know, you might want to speak to a practitioner about this cause they can recommend that you get the CBO test, which is a breath test and that touches the tests, the small intestine. But as guy mentioned, getting, you know, your blood's done.
Lynda:                   Um, I think is important. But again, you might want to not waste your time and just go and get whatever done at your local GP. You might want to speak to a health practitioner about what blood parameters you'd want to get tested because what we might ask for may not be just the general stuff that the GP might do. So, um, Alyssa an integrated cheek P for example. So, you know, you might want to just explore those things to start with really simply. Um, yeah. What else can we say what I was going to say? That you got to have a project that's about it. So I think if you guys might find it useful for me to get guy back on to talk about how he's going. So we might get in mind once we get the results back, we can walk through the results, we can talk about what, um, I pop him on some changes that we might make.
Lynda:                   Um, and then we can look at the progress a little bit further down the track. That might be useful and okay. For you. So you host retreats, workshops, online meditation groups. How do you preserve your energy and protect yourself from what comes up for people? So what I mean by that is like when they're in that, yeah. So when they, when people are in that environment, whether they're in a workshop with you in the flesh or at a retreat, stuff comes up for people and you know, energy moves. You guys feel that at times. Sometimes it's dark, sometimes it's not. How do you protect yourself from that? And I'm sure it's a work in progress and you're probably learning how to do it over time more and more what works. Um, but now I guess this applies to anyone in the health industry. Like how do you protect yourself from some of the, because sometimes what we hear is quite heavy and traumatic and we really empathize and we can be, you know, we can really be in it with them in the trenches and that can, you kind of need to protect yourself in order to be that real support for people.
Lynda:                   So how do you protect it?
Guy:                      Yeah, it's something I'm learning and I just want to make clear as well. Like, cause I wasn't used to talk about NGS as if as a metaphor, but it's not, it's very real. And, and especially at the retreats and the, even the one day workshops, you can move a lot of energy and you can feel it. You know, I liken it to be in an a football stadium. If you spend the whole time and you get excited and your teams went in the energy left and it's the same retreat, that energy starts to move and uh, and people are unknowingly, unconsciously will want to take energy as well because it can, it them conditioned to the, to the past experiences and they don't have to create change, which is really fascinating. Um, so I think on an unconscious level, um, it's very easy to allow energy to.
Guy:                      It's like given a receive. Um, and, um, we have a choice at the end of the day, how much we take on board and how we, how we do it. But I also liken it to like go into the gym where I think the body adapts and gets better at it and managing the energy. Um, uh, the more you work with it for a start, but then you do things as well. So, so in the retreats, like I, you know, I, I'm so excited myself and I, and I'm so closely involved, it's hard not to, um, get involved in that. Um, but you know, there are many processes you can do to bring back, um, simply just taking time out during the day. Actually recharging yourself within nature, um, is a big one being barefoot, slowing down, just coming back into that, breathing into the body, coming back to the heart, all the tools that we teach anyway can allow you to do those sorts of things. You know, um, uh, trying to get a good night's sleep. Um, you know, I find magnesium really helps as well. So I take high doses of magnesium and a submersive submerse myself and water really helps as well. Uh, so there's physical aspects you can do. There's emotional and, and mental, I guess. I don't know if that answers your question, but that's,
Lynda:                   I guess my observation too with what you do in between the retreats. Cause sometimes a guy in the co-hosts, Petra and Matt will have a retreat and then they'll have three days of a break and then there'll be another retreat. And so what they do in between time would generally be, I mean obviously they commune with each other. They, you know, spend a lot of time talking, like decompressing, um, often they will um, go to the spa or sauna. So around here we've got the Kiva spa, which is awesome and they get a choose and it's great because then a few people can be in that spar environment. They've got multiple different levels of heat. They've got a plunge pool, which is cold. They get a chance to chat, they get a chance to just unwind them and physically unwind their body massage will definitely, yeah,
Guy:                      they're looking at using the hyperbaric oxygen chamber. That's literally only a kilometer away from us. So we're going to be, if that's open, we're going to book in and have a session there too, which will help.
Lynda:                   And I think after the retreat, um, like what's been really nice is that like a lot of us staff will get together. We'll have a dinner or a glass of wine and we'll chat about it. And you know, it's almost like our decompression sort of time or time to just enjoy what has just happened. And also just talk about, you know, what could have been done better or anything like that. Yeah.
Guy:                      And if you haven't experienced in this work before, it's kind of hard maybe to fully appreciate in this conversation.
Lynda:                   Well, I guess again, maybe, maybe, let me put it into context then. So what might experience, and we're just talking about the retreats now, what you might experience there is, is a typical day might look like a lecture, might be quantum physics, it might be neuroscience, it might be sound and it might know. And then it might be a sound, a meditation that we might experience too. So there'll be lots of sound. There'll be sense as well. So smells, and there will be, you know, um, there will also be meditation. So lots of meditation would be yoga, but a different kind of yoga, like kind of, we always use breath in yoga, but this feels a little bit different. It feels like a really concentrating and making that a focus more than the sauna, more than the postures itself. Uh, and there are so much more that I can't actually reveal, but she comes up for people and people move stuff as well as the hosts and trust me being the partner that guidance like that is a preview to what comes back to the bedroom at the end of the night.
Lynda:                   Sometimes it's like, you know, you're on such a high, sometimes you just kind of dealing with what's coming up. Sometimes you're like in awe of what's just happened in the room and then you're like, what was that? Like there was something else in there sort of thing. And so I think there's, um, we definitely use some supplements too. So outside of talking about it and like you said, getting out in nature, you guys would jump in the magnesium pool and spend some time together, which I think is important. Um, I, we definitely tap into the magnesium that would be our, probably our core product, uh, to help us sleep, but to support our energy levels stress. If that comes up, Kofi 10 kind of tapped into too. Um, we should, we've been taken for a little while anyways, but that's just support to mitochondria energy levels and, and that sort of thing.
Lynda:                   Um, yeah. How do I protect my energy? Well, I do work with people all the time and I think whilst like you can get really are always, um, take the cases to heart in a way. Like I kinda really wanna really want to support people. So I'll kind of do the investigation and I feel like that's con like certain cases are constantly on my mind and all of that sort of stuff. But I think I, I, um, and honestly the whole journey with fertility has helped me de stress and put things into perspective because, you know, if you're highly stressed and anxious person that ain't good for fertility and making babies. So I've just been, it's helped me kind of go, okay, well I can leave work at work at the moment. Now from six onwards is my time with my husband and my time to hook dinner, my time to decompress and not working throughout the night. Um, you know, I'm able to put things away. Um, what else? I definitely love to, we live close the water. So I do like to go for a swim here and there. Sometimes that's not possible when work is really busy, but you know, if I can get the opportunity at the end of the day, especially in summer, then that really helps. Um, but
Guy:                      yeah, I just think that's huge. Getting in nature, you know, lotion, like I know when you live in the city it's so easy not to do that as well. And weeks can go by and I think anyone listening to this, like it should be just mandatory.
Lynda:                   Mm. A bit. Sometimes if you can't escape, if you can just get out in the backyard or you know, on your porch or wherever you work, if it's in a corporate environment, if you could walk around the block or just go sit somewhere. I used to, um, uh, practice natural empathy in the hub of Sydney city, uh, on Macquarie street, opposite of the botanical gardens. And I would go there and you can imagine it was like gray everywhere, you know, um, in the way of high rise buildings. And lots of stressed out. People walking around, you know, on a mission in their suits. And I would just take my lunch and go sit on the grass and he might launch the botanical gardens. And it was just gold for me to separate myself from the staff, you know, the, um, cause people have some heavy stories going on and that's, that's great that I can be there to support, but you want to be able to, in order to be really, um, there for people, you kind of need to protect yourself and in the, in the process,
Guy:                      Oh absolutely. You know, like they say, yeah, you have to make, ensure your cup is full and overflow into them. Be able to be that support. Others, if you're not taking the time to nurture yourself, which is what I've been guilty of this year, you know, then absolutely it can,
Lynda:                   we can take his toll. And we definitely don't always do it perfectly. I mean, there's times that I kind of let work take over and then I'm, you know, and then I'm stressed out to the eyeballs and I'm not enjoying life. Um, but I definitely think it's good to have those practices in place and those tools under your belt. Um, but definitely meditation in the morning helps me and it's not always a long one. Sometimes it's a short one and then I'll go and do yoga and that's just my, nothing gets in the way of yoga unless I've got a really early podcast or appointment. But I try to kind of factor that time for myself as a non negotiable, you know, it's just time for me to breathe. It's time for me to move my body. Um, before I stand in clinic cause I have a standing desk, I'll just stand there for the entire day and so I can't and it's in my home. So you can imagine it gets a little bit cabin fever here. So even getting out of the house to do yoga is beautiful for me and important. So is there anything else that you'd like to say to cap this off? Either cap off 2019 or inspire people for tour 2020 or just whatever a look for? I think
Guy:                      it boils down to this, and this is one thing I work really hard on. I do my best to you, love, reminded me of it. Um, when I'm not, um, is to just be grateful for where you are at right now. And I think I can, we can often catch ourselves fantasizing about earning this amount of money or taking these vacations and doing all these things. And, and we can often let so many things slip by us that are actually around us at any given time, at any given moment. And for me, life is really about trying to tap back into that and, and not going on these subconscious automatic programs every day. And, and forgetting about the beauty that's all around us at any, at any time that we choose to pay attention to it. Um, and it's, it we get can get so caught up in this striving and so caught up in, I don't know if these things, when I get to that point, life's going to be good, but until then, no, I'm not so sure.
Guy:                      You know, way, when we're in that mode, it's, it's, it's a deadly trap. Like, and I've been caught myself in it so many times in the past and I still catch myself falling into certain slipstreams over it and, and I really work hard and coming back and just take a breath, be here now, you know, this is, this is what, this is what it's all about. So, um, the more I can do that, funnily enough, when I get into more holiday mode, I get little productive spurts. And isn't that the truth? And I feel like I'm getting more done at just less stress because I've given myself permission to, yeah. So say, well, why not? I operate like that all the time. Yeah. So, so anyway, that's, if there's one thing is, you know, um, yeah, count your blessings almost.
Lynda:                   Yeah. And I'm, I'd second that for sure. I think there's, so when you're on a mission, whether it's you're trying to grow the business or you're trying to create a baby, and if that's even the right way of saying it, um, it's a project and it's a focus. And sometimes you can list the moments, you can miss the presence, you can miss the moments and even, you know, regardless of what you're trying to manifest, for want of a better way of saying that. Um, I think it's important to just be in the moment and it's not always easy. And like you said, we still kind of get trapped in the, in the stress and the achieving in the doing. Um, but yeah, I guess that's, yeah, I'd like to capture a little bit of the presence and being in the moments. I think, you know, part of me is a little bit scared to take time off sometimes.
Lynda:                   Like a bit like you, I have a massive inspiration when I'm away from work, when I'm away from the computer. You know, if I, and it's, it's just, they're monumental changes. They're exciting changes. They reinvigorate me for the next year or the next month or the next day. Like, you know, it's important to create that space. And I think it's important to remind yourself that that's what happens in that space because there's a certain comfort that comes with doing and this certain comfort that comes with just keeping up busy. For me anyways, I kind of feel like, well as long as I'm keeping busy, I'm working on the business, you know, or I'm working on the baby. Um, but you know, sometimes you really do need to kind of pull back, have a different perspective. You know, when I worked with 'em Metagenics and moon if many moons ago, Graham joiner the was he a national director and making sure his official title, but he would always say, you know, when you enter into a room, whether it's an event or a seminar or whatever, it might be always sit somewhere different, have a different perspective on things all the time, you know, talk to someone different, you know, um, cause we're so creatures of habit all the time.
Lynda:                   We might stand in the same place in the yoga class or seminar room cause we feel comfortable there. It's the known. So I think it's no different to a stepping back from your business, stepping back from what you're going to create and having a fresh perspective, looking at it in a different,
Guy:                      why can't we make every day a mini adventure?
Lynda:                   I'm getting all philosophical now. Why can't we? But I think we're running along for a long period of time. Hopefully you guys have gotten something out of this, if not just the pleasant conversation or getting to know us a little bit better. But again, if you enjoy listening to gyno, have a chat and you'd like to know a little bit more about certain things. I don't know. I don't know if we're that interesting, but if you want to kind of know and if something sort of excites you to ask them, feel free. Can send me an email info at Linda grip [inaudible] dot com send me an Instagram DM or a Facebook message that's, there's so many avenues that you can get in contact and we shall collate and collect that information and create another podcast.
Guy:                      Hit me up on Instagram, my best guy here, Torrens DME through there. Beautiful. And I put that in the show notes. Thank you. I'll direct you to a podcast episode, EMT.
Lynda:                   Well thanks for jumping on. No worries. Thanks for having me. It wasn't as painful,
Guy:                       too slow. It will feel like a duet.
Lynda:                   Excellent. Well I appreciate you coming on. Anyways, it's nice to have you. I'm always nice to have you onboard and again, let's try and do this frequently throughout the year, but I think what might be most interesting is to watch you do earning as you struggled, taking your advice from your naturopathic wife. I look forward. Thank you and guys, if you've enjoyed this conversation and please make sure that you share it with at least one other person in your life that you know would benefit or that just wants to hear a pleasant chat and while you edit plays later, writings and review on iTunes so that others can find love and guts easily. I can fill up on the valuable content from selected guests too.
Guy:                      Beautiful. Guys, if you made it all the way to the end and you're hearing this, thank you so much for tuning in. I really appreciate your time and be sure to let myself or my wife, Linda, know what you thought of this podcast. Hit us up on Instagram. A GuyHLawrence Lawrence or a Linda, Griparik naturopath is her handle as well. And uh, yeah, have a fantastic week and looking forward to many, many more great things to come in. 2020 or I might love for me and I'll see you soon.