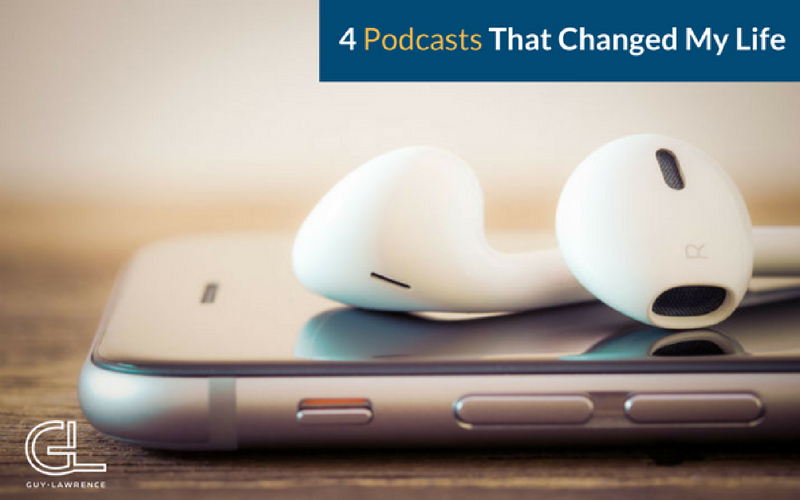 You maybe thinking that the words 'changed my life' might be a bit of an exaggeration… But here's the thing. They really did!
Why? Because after listening to them, I explored these ideas presented and I had no idea how much of an impact it would have on me.
As I look back and reflect, my life has taken a whole new trajectory and has shaped itself in a way that I could never have imagined. From starting my own podcast in 2013, exploring our own bodies potential, neuroscience, shamanic rituals, extended meditation retreats, cold exposure therapy, breath work… the list goes on!
So be sure to add these to your hit list when you're looking for new podcasts to listen to. And if you've never listened to a podcast before, download the iTunes app to your phone now, because podcasts truly can be amazing and one of the best ways to fill in those commutes to work or downtime.
Now you may be thinking that it's a little self-indulgent that I have two of my own podcast episodes in here. But in all honesty, being 'in' the podcast episode, it can't help but effect you in a big way. From researching prior, to then being there with the guest. It's a true privilege. And they forced me to think outside the square.
These are in no particular order and not necessarily the best podcast episodes out there. They just made the biggest impact on me and where I was at for that particular stage in my life. Enjoy.
---
1) London Real: Graham Hancock and the Sacred Vine
I remember stumbling across London Real on the internet. And I spotted the name Graham Hancock. My sister had a book by Graham called Finger Prints Of The Gods that I remembered sitting on her book shelf fifteen years earlier. She always raved about this book! So his name lured me in to press play and listen to this podcast.
The main topic was ayahuasca, a plant based medicine used in shamanic rituals in the Amazon jungle for thousands of years. I was blown away. He also spoke about the loss of his father, as this was something I had experienced a year earlier listening to this.
This led me to look into the Amazonian brew much deeper and I ended up having an ayahuasca ceremony 12 months later. It was life changing.
---
2) Dr Bruce Lipton: How to Hack Your Health with Beliefs & Super Learning
I remember trying to read Dr Bruce Lipton's book 'Biology Of Belief' over ten years ago and most of it went straight over my head. His book has been staring at me on my book shelf ever since.
Then after running a podcast of my own for four years, I'd been exposed to many great teachers and I'd been heavily exploring meditation, neuroscience and the power of our minds. It was only fitting I tried to get Bruce on our show.
He BLEW OUR MINDS in this interview and what he had to say. We had a lot fun and it is an episode I'm very proud to be a part of. He articulated his message so well I finally 'got it' with what he was saying from his book. I've since re-read his book many times over with a different set of eyes. I now look at my own mindset and personal power in whole different way. Simply life changing.
---
3) Joe Rogan: Breathing with "The Iceman" Wim Hof (from Joe Rogan Experience #712)
It doesn't take long for friends to let me know about people/things if they are deemed a bit left field or 'out there'. And from several people I kept hearing about this guy called 'The Ice Man'.
I had a 10 hour drive ahead of me and I sat back and listened to this incredible interview with The Ice Man Wim Hof and Joe Rogan. I was completely moved by it. The moment the interview finished, I picked up my phone and rang one of the girls in our team to see if we could get Wim on our podcast. He agreed. We became were the first to interview him in Australia and we had a lot of fun. (You can check out that interview here.) From there, a few months later, I spent a week with Wim at a retreat in Melbourne. Needless to say we had a blast and I made some awesome friends. It changed my life.
---
4) Joe Dispenza: How to Break The Habit of Being Yourself & Create The Life You Truly Want
I didn't know much about Joe Dispenza when we had him on our podcast. My wife at the time was reading his book Breaking The Habit Of Being Yourself. It sat on the coffee table and I would pick it up and keep skimming it. And then at dinner one night, I was chatting to a good friend who had interviewed Joe on several occasions and she said she could connect us if I wanted him on the podcast.
I loved every minute of the interview and it inspired me to go to his two day progressive workshop that was literally a couple of weeks after in Australia. I was hooked! I then went on to do his five day retreat in Mexico and be part of a blind scientific study. It was life changing.
---
Conclusion
Like I said at the beginning, these are not necessarily the best podcast episodes out there, but they certainly changed my life. With so many great podcasts on the internet, I'm forever grateful for this incredible platform and the people who share their wisdom freely to help and inspire others.
What are your favourite podcasts/episodes?
Ps. Whenever you're ready, here are 3 ways I can help begin to create lasting change in your life with this work.
1. Grab my free Daytime Reset Meditation
This is the very thing I do daily. And it only takes 7 minutes! The benefits are endless and a swear by it. DO NOT underestimate the power of this simple process– Click Here
2. Subscribe to my podcast. It's completely free
Here I have conversations that go well beyond conventional health, wealth and wisdom to inspire us to be the best versions of ourselves daily. Guests include world leading experts in this field of work. Join my newsletter to stay up to date or…  Subscribe on: iTunes | Spotify | Stitcher | Youtube
3. Join our Let It In Academy & connect with others who implement this work
This is where the rubber meets the road. Be part of a supportive community and also have direct access to me. This is a proven program to demystify meditation and help create transformation from the inside out – Click Here