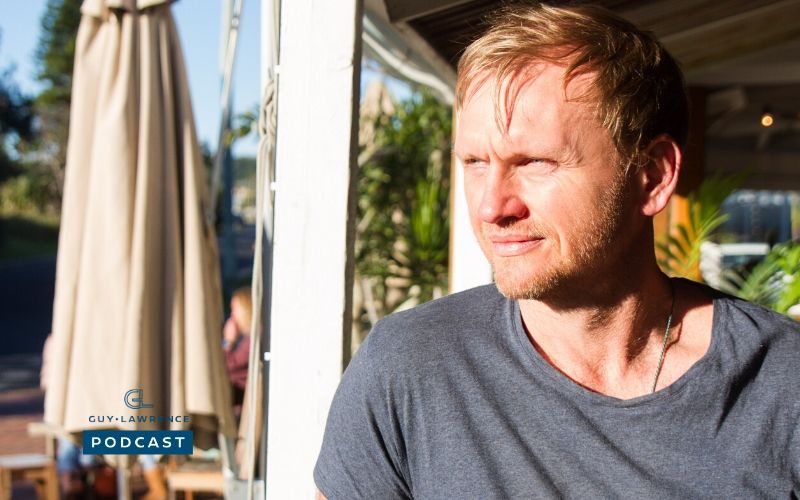 #124 I recently had the pleasure of being interviewed on Alexx Stuart's Low Tox Life podcast. She asked some awesome questions and it was truly a great conversation. With all the uncertainty going on in the world right now, I felt this conversation would help so I want to share it with you.
The questions she asked me:
How doing a plant based medicine journey changed the direction of my life.
You've explored so many aspects of the inner work… what did you find and how has that showed up in your life? (For me the big question is: what is consciousness and what it means to be human?)
In the past 14 months you've run five sold out retreats called "Live In Flow". Why are they called Live In Flow and what can someone expect when they join you to do that work?
You took your 75 year old mum to the retreat in January. What happened?
Once people have returned home… what are some of the practical things that help us integrate ourselves back into life, but forward in our own personal development: How do people make a success of that so it doesn't feel like 2 days later it's business as usual and that inspired feeling they felt is 'over there'.
Let's talk about the impact of memories / negative things that have happened: does the body hold memories of the past? And how does it affect us?
Sometimes we're so desperate to change but we lack a basic framework and you've got four pillars you like to teach people: What are they? Awareness – Acceptance – Intention – Action
Subscribe On:
---
About Guy: Guy Lawrence is a coach, speaker, wellness advocate and entrepreneur. He is the founder of Let It In. A program designed to help people bridge the gap between the life they live and the life they truly want to live.using meditation and the language of neuroscience. This is facilitated via live workshops, retreats and the online Let it In Academy membership-based community program.
He also supports people via his podcast called 'The Guy Lawrence Podcast'. These include conversations with pioneering experts that go well beyond conventional health, wealth and wisdom to inspire change in our lives. All episodes are freely available via Youtube, iTunes, Spotify & Stitcher.
►Audio Version:

Learn more about the retreats:
www.liveinflow.co
TRANSCRIPT
Guy:                      Hey, beautiful people. This is Guy Lawrence of course, your host and welcome to another fabulous episode of my podcast where each week I have conversations that go well beyond conventional health, wealth and wisdom to inspire change in our lives. And a little bit of a special episode today. I think it's special because, I recently featured on Alexx Stewart podcast, low tox life and we had such an amazing conversation. She asked amazing questions and I wanted to share it with you guys here today. I cover quite a few things I don't really speak about or haven't spoken about before. So I think you will get a lot out of this. Um, uh, include in, um, you know, about the experience of taking my mom to the retreat, uh, our live in flow retreat back in January, which seems like a million a million years ago now in some respect.
Guy:                      Um, but uh, and the profound effects that had on ourselves and as a family as well, then the healing benefits, it was quite incredible. And there's a few things in there. I certainly haven't spoken on air before. And, um, yeah, it was just, it was just great. And we also, I, jeez, I dive into a little bit about my ayahuasca journey many years ago and also, um, a framework for change of what we are doing with live in flow and how we dive into the foundational pillars, um, as well of um, uh, awareness, acceptance, intention and action and what they mean and how, what that actually means into our lives. Cause, uh, I think as well with this work, you know, it's, it can all seem very mysterious and mystical and it's like how do we ground us and more importantly, how does it impact our daily life?
Guy:                      Cause that's where the rubber meets the road. And that's where we want to see the results show up in our life, to be better humans, to be better people. So we can, you know, have the courage to go and do the job we want or the career we want to find more purpose in our life or find more love in our life for the partners or whatever it is. It starts to show up in all different areas in our life. I think a grounded practice is where it all starts. So hopefully we demystify a little bit of that today as well. And yeah, look, what can I say? Um, if, if one, my one request is if you are enjoying these podcasts and you do happen to listen through iTunes or have an iTunes account, I'd be grateful if you could leave a review on there.
Guy:                      Subscribe and five-star it if you think it's worth the five stars of course. But they're super simple to do these. They're super simple. Uh, it's, yeah, it's easy to do these days and it just really helps me continue to, um, get this podcast out there or share it with a friend or even if you use Instagram or social media, tag me and share it. Let me know. I thank everyone, uh, personally, if I can. Uh, it's just greatly appreciated guys. And um, yeah, hope you enjoy the show today. Please let me know what you think of it. And of course, if you want to know anything more about me or where I'm up to come back to guylawrence.com.au. Or liveinflow.co is our website as well now. Anyway, much love from me. Enjoy the conversation and I'll see you soon.
Alexx:                   Hello Guy. How are you?
Guy:                      I am fantastic, Alexx. Thank you for having me back on the show. I'm always excited to be here and be able to talk about this stuff.
Alexx:                   Yeah, me too. And we always get so many wonderful comments, especially in the low tox club where a few of the students have actually gone on to go on your retreats and do a few other things with you and the people that you collaborate with often. And we always hear so many fantastic rave reviews, so it's always great to check in and, uh, explore, uh, what it is that you have decided to make your life's work, uh, in the way that you help other people achieve various things for themselves in a spiritual and more practical level in day to day life, which I love. It's not all about escaping into somewhere. It's actually all about bringing the magic into the everyday as well. Um, so for people who haven't heard of you before though, which of course there's going to be a few, um, I would love for you to just share a little bit about, and of course we've got past shows that we've done together in the show notes so people can go into more detail if they want, but a little bit about the very end of your life as a business owner of a protein supplement, a food company, and into this, I mean, what would seem to be such a massive jump, into what you do now and sort of what that looks like for you taking that leap personally, because a lot of us don't take leaps.
Alexx:                   Which is scared. There's a lot of fear in our lives. Um, and I think it's always interesting to unpack how someone felt that actually the only option was to leap. And so that's kind of exciting for people to hear about how it comes about.
Guy:                      Yeah, absolutely. You know, it's still to this day even struggle to tell people what I actually do as well. And you know, and one of the things I really do encourage people to do is reconnect to their heart as simple as it sounds. And I realized if I was really gone to listen to my heart and allow that, uh, I guess live by my own practice, what I preach then, then I had to honor this and do it for myself first before I could really start to show other people away. So in essence, I, yes, I had a, um, I was part of it in a partnership with a company called one-eighty nutrition, which was a natural health supplement company. And we did a lot of research and podcasts and, uh, great content out there as well. Uh, but the whole time I was exploring what it means to be human.
Guy:                      What is consciousness, who am I? All these big questions. And the more I delved into it, the more it opened my eyes. And there was a point where during that journey, because I put so much energy and effort into growing this supplement company, it was the first time in my life. Um, I really kind of believed in myself and back myself and actually overcome my own limiting beliefs in life from the work I'd been learning at the same time, intent, intention to that. And I realized there was only so much information that I could consume and information wasn't the answer, but for me it was more about experience and the only way you're going to have experiences by taking the step into something that's beyond probably your comfort, to have certain experiences. And from looking at this work, I was starting to have profound experiences and it really started to open up a part of myself that was always there.
Guy:                      But it felt like I was starting to remember who I really was in that discovery. It's really hard to explain if you hadn't experienced that before. But, um, so as I was starting to really remember who I was and who the essence of me was under all my cultural conditioning and beliefs and everything, who is Guy? Ego. Exactly. And, and it was difficult for me because it was the first time in my life. I was actually, I felt I had success. My ego was definitely attached to a lot of that even though I didn't like to admit it at the time. Um, but I was just getting stronger and stronger poles because of these profound experiences I was having and finding this work was coming quite naturally to me. Then I realized my gift was to be able to share my story and show another way for people that really wanted to understand this work more.
Guy:                      So I was starting to want to help others from my experience, not just from a book that I'd read. Does that make sense? And it just got to the point where I knew if I continued to resist this pole, I'd be doing myself a disservice for not only that other people that I could potentially, uh, show another way too as well, which was definitely a big factor for me. And, uh, and I decided to, um, create a change and stick more into this work. I didn't know how it would look. I didn't know what it would look like. But, um, that's what happened in a nutshell. And that, and that was a beginning of 2018. So it's been two years since I stepped down from, from that company.
Alexx:                   Yeah. And a lot has happened since. Yeah. So in terms of your mind, like, because obviously a lot of people can be curious about, uh, exploring their essence and connecting to a sense of self that's much deeper. Once we peel back all the, but not everyone needs to feel call to then making that their work and teaching everybody how to do it. Because otherwise we would literally, they would literally, okay, so who's actually going to run the business over here? Like, we need to figure out how we can feel ourselves in our everyday lives. I feel like that is also an invitation on the table when we step into this work. And, um, I, I just want to make sure that people out there don't feel pressured to then, Oh my gosh, if I do this work, does that mean my entire life has to change? I need to start teaching people how to meditate and connect to their true self. No, this is more about the fact that that is what happened for you. And the magic of going on that journey is to invite one to feel more oneself in the truest sense of the word, right?
Guy:                      Yeah. It was just my truth. It was like, I knew all along, even from a child, I was drawn to these, this stuff. Like it's just me and, and, and I remember hearing a wonderful analogy once that, uh, we're all like individual notes making up the symphony of the human race. And every single note is very different and some bits. And, but from those notes, um, when I say the note, it's like, who are we? What's our purpose, what's our passion? What's our joy? What brings us many things? And for many people it could be just to be, um, a great mum and, and a loving parent. And that's what they, they just love doing. And, and, but it's, for me, it's about really honoring those things, what it is and putting our heart into it. And not just coming from a place of fear cause we've got to pay a bill or we've got to do this and we get caught up in these decisions in life that are actually restricting the flow of who we really are.
Guy:                      And I think we can lose connection with that cause we saw it in our heads these days and we've disconnected to a large part of ourselves, which is our body and the unconscious and everything within it. And for me, this works about just starting to reconnect back to that and beginning to listen to what wants to come through. And we can go as fast or slower at this work as we want. And another great analogy is I heard of, um, it's like if you, if you want to hit the accelerator, you just drop into your heart more and just come from a place of love and you just unquestioned it and you just flow and right. Or if or if you want to slow down and you just bring them to mind and you think things through and, and you slow things down that way. So we're our own pilot, you know, um, we have, we have a choice of how we want to direct. And I think that's what this is about really at the end of the day.
Alexx:                   Mm, absolutely. Such a good way to say it. That's beautiful. Um, now plant-based medicine is obviously a bit of a topic usual and, uh, obviously, uh, Michael Poland's book a couple of years ago on psychedelics and the place that they might have, especially in the world of, uh, having healthier minds, which is really quite interesting work, um, to explore the microdosing aspect. And I know they've decriminalized it already in three States. Uh, for example, um, uh, microdosing psychedelics, which is very exciting for mental health, anxiety, depression cases and using it to treat that. But you weren't really coming at your explanation of plant-based medicines, um, necessarily through the lens of having been depressed. It was more this yearning to find a greater truth. And we actually explored your iowaska experience a couple of shows ago. Um, when we chatted. What do you think the role of that exploration now that you've had enough kind of retrospect to look back on it with a bit of time. Uh, what do you think that that still means to you to have done that and what do you think the clearest things that float to the top are in the hands of what you learned
Guy:                      that too? That's an amazing question. I actually think I did an Iowasca ceremony back in 2013 I think it was. And still to this day it made me, it made me question the big, big questions. Like what, what is life? What is it? W w what is the essence of who I am? What is consciousness? I my, I've, I got a body with a soul in it or am I a soul that exists in the body? And when you, for me, when I experimented with iOS, come plant based medicine, I had an experience that was just as real as this conversation right now. Right? But that was with my eyes closed and my five senses removed from the external environment and that was going within. And then from going within I was then I became what I felt connected to everything to the universe, to source energy.
Guy:                      And that's what really set me on a trajectory to look at that well, what is death? What is life? What is fear? What is it to love? What is it that really matters in life? What are we giving energy to on a daily basis that when it comes to push, comes to shove, does it really matter on the bigger things? Sometimes we have many wake up calls and it really knocks us back on track to what matters. You know, we could have a phone call with a relative that gets sick, you've heard something or, and all of a sudden everything starts to come back into perspective. And quite often we realize we've strayed a lot.
Alexx:                   All those big shifting times.
Guy:                      Absolutely. Well, what is driving that in the first place? What is it's, it's us. What's driving the fact that we haven't even realized that we have drifted some straight so far off. We, we need to see something from the, from a different mind that created this, the problems in the first place. And for me that was my first like, Holy shit. What? You know, what have I been complaining about? What have I been looking at? What actually starts to matter? And it opened me up in a way and I experienced a love. I experienced this unique connection to something greater than me that I've never, never at that point experienced before. Wow. So when you think about that for a moment, people will have a traumatic incidents. So you're having a height heightened, experienced, but quite for many people, a heightened experienced can be coming from with a negative connotation.
Guy:                      And then when that height heightened experience that was done, the body is then holding that memory. So what if you are the heightened experience that had a positive connotation that was so beyond the realm of what you've been experienced in that every sense, every receptor in yourselves came alive to feel and experience something like that, and then you come back down and take that away from you. Do you, you know, do you think that would have just as much as a positive impact as a negative experience with a negative impact? Absolutely. Yeah. So for me, when I experienced that and took that back away, it really started to make me question everything but in a positive manner because I was coming from a good place. I was starting to connect to people at a deeper level that may be out of, brushed off in the street before and actually stopped looking into their eyes and I'm actually have a conversation and connect with someone even if it's for two minutes and connect to that human essence of who we are again.
Alexx:                   Mm. I often feel like it's stories like this from the front lines of an experience like that that actually give us a whole bunch of hints and really a framework for us to not waste another day. And I don't mean go to um, some far away country and have an Iowa skirt experience, but for not wasting another day of slowing down and looking someone in the eye and you know, like everyone can do that today. You don't need to, uh, have a life altering plant medicine based experiences to get started on, on that kind of stuff. I feel like you having had that experience reminds everyone listening today that the extreme and the teacher to then come back from the extreme allows us the benefit of that, that learning to implement into our life now.
Guy:                      Absolutely. That's why I'm on this call. That's what I get passionate about and why
Guy:                      I didn't even know I was going to say or talk about that. You know, it's in me and I really want to get that message across for people and I forget too. I had to, I had a rough day yesterday actually. I was feeling really flat, I was struggling and I'm like, Hey, I have someone that talks about this all the time and I allow it to be feeling this way. And it's like, no, it's okay.
Alexx:                   Everyone is allowed to have, I mean that's why I'm putting on this mini series of mental health and mind expansion because we need to remember that the goal isn't to find a way to be rosy and perfect and enlightened every day. The goal is to develop mental resilience and true connection to the things that matter most so that we are much better equipped to ride the crappy day that will inevitably come for us all
Guy:                      hundred percent and then when a crappiness comes, it's knowing exactly how you can support that whole space. Like I hold space for people at a retreat, a lot of people and, and that comes down to, I just hold space myself. It's no different whether it's 40 people in the room or it's just me and this been able to do that and a bit of nurturing as opposed to resisting it. And you know, beating yourself up even more and layering upon the things that we think should already be there, but might not necessarily be there in the first.
Alexx:                   Yeah, I feel like we get so lost as hearings. Don't worry. I know one big question that you ask yourself is what is consciousness? What does it mean to be human? Have you moved forward in any way to better answer that question yet for yourself or others?
Guy:                      Well, I assume they spend a lot of time exploring all my podcast now and because after again, having an experience outside of plant based medicine, I've had more powerful experiences just from meditation now than actually that. But that takes work. But I believe it's within any one of us. And for me, I look at it now as, um, I'm had to go with this. I actually interviewed a guy last night, professor within Laszlo and he was, he's 88 years old. Oh wow. I need, it's just this, this has been nominated for the Nobel peace prize twice is written, I think, or been involved in over a hundred books. And he's been exploring consciousness and the cosmos his whole life. And I wanted to hear what his version was. And so I'd been talking to many people around this and I, I'm starting to believe that there's like, um, there's a field of energy, you could call it the universe where the universe creates from, from life itself, everything.
Guy:                      If you break it down, this is what the new science is showing, that everything is vibration and energy in a test. And for me, I really feel like we are part of that. We coexist with it. Uh, and there's a, there's a part of that's come from this allowing us to have this human experience. So when I look at consciousness, but what is consciousness as a human, it's then be able to have aware that we're aware that life is happening right now. There's an awareness to it. So if consciousness then becomes awareness, then it's how do we become aware of, and then there's been able to point toward the direct, the experiences that we're having on a daily basis that allows us to experience life through these senses that are happening moment to moment. And then we interpret those senses, but we have free will as well.
Guy:                      So we can put her own interpretation onto that. But for me, another simple way of looking at it is I think that you could, it's like being efficient, a goldfish bowl and the water is the environment of the fish. You could say that's the source energy, the field, what the unit that we're in that we're just not aware of our environment because we've always been in it and part of it. And from that and from that, um, we just haven't been taught how to take a drink and we're all thirsty at the end of the day. So as I start to look at that and be able to have this connection, then it's almost like there's a part of us that if we willing to do the work and take the time and get beyond our senses, our sensory experience, where we're constantly putting our attention outward and be able to turn that back inward and from an inward experience, get past those senses, we can actually become aware of other things. We can become aware of this field and actually reconnect to that. And that's what I for me, believe consciousness and this having that connection which I find starts to help you, uh, almost guide you through life if you, if you're willing to start to work on that connection.
Alexx:                   And what does working on that connection look like for you? You use the work as a, a phrase often and just for anyone who hasn't listened to the last show we did together, um, and I'd became to see of course what it looks like for you right now cause that can change as well. Um, as you go through life, what is showing up every day and doing that work? Look like,
Guy:                      find it in the present moment and I'm becoming out of the con the unconscious patterns that we play out all the time. You know, they say that 95% of the day we run down on unconscious patterns constantly and just be able to come back to the first point is being aware that you're doing it and coming back to that present moment. And then, and then every time you drift away from the present moment is coming back. So as we find the present moment and if we're willing to, there's many different ways. One is obviously meditation. So from a meditation perspective, you close your eyes, you're moving your senses, you're giving your nervous system the opportunity to be told that it's safe because we are hardwired to,
Alexx:                   to be afraid and to be on the lookout. Yeah,
Guy:                      constantly. So if you're willing to give yourself an environment to be safe and feeling safe, you're allowing that nervous system to conduct. So that's the first place. And then as you direct your awareness inward and you can work on different techniques, I like to use a technique which is called open focus, which has given your brain something to focus on, but there's nothing actually there in the space and the environment that it's in. And from that place you can start to develop an inner awareness. You're actually directing all that energy that's normally directed with your senses and you're actually learning to, and then what skill, which is called proprioception. And with that skillset, you're developing a new skill and that's the first point of being able to start to connect. And then if you evolve the heart as well, and that's not the learn to train techniques and actually bring awareness to the heart, which is one of the main contributing organs of the nervous system, you can start sending a very different signal to the nervous system as well.
Guy:                      And if consciousness does once through the nervous system to be able to, um, send information through every cell in the body. And for me, a lot of this becomes an evolution of the nervous system. So if we can actually work upon the nervous system and start to work that, that allows us to expand our consciousness, which in turn allows us to expand our awareness. And as we expand our awareness, we can start to connect with different parts of reality that we never assumed to be there. But we've always been kind of narrow, focused and then the stress response. Does that make sense?
Alexx:                   Absolutely. And I know in my own journey of connecting to the present moment, um, more and more and more, uh, because you just start to say, don't you ever give solve it, but it makes you, it stops being a have to quite quickly. And it starts being at, Oh, I know life is way sweeter when I actually take the time to do that. Um, I I find since doing that and I've always been a look on the bright side of life gal, I've always found pretty lovely, simple things, um, to be worth my attention and focus on those little things that bring joy. But now it's on steroids. It's crazy. If I had a beautiful blueberry, I have to rave about it. Or if I like, you know, if I take a walk and I see a pretty tree, I just, I have to stand there and just look at it and be in awe. And, uh, and I think that that is so, um, that that is just so beneficial to an overall sense of wellbeing.
Guy:                      It's huge. And isn't that what the game is all about? At the end of the day, we all we have is yeah. And it's trying to remind ourselves the life is happening to us now and come back to that. And I was going to say, putting yourself in nature, being able to be in a conversation 100% with someone, you know, like, like you say, eat a blueberry and really feel it and taste it, you know, spend time in a park or, or whatever it might be just to come back and just come. We let all our problems go. Even if it's for five minutes, there'll be there when you get up, you can pick them up on the way out.
Alexx:                   Yeah, totally. Thank you going anyway.
Guy:                      Exactly. You know, and that's the work. That's where it starts. But I think unfortunately we're not willing or quite often we tell ourselves we're going to start tomorrow. I'm stop next week. It's like anything, you know, I'm sure you, you see it with your load talks programs. Yep. Yep. I'm going to get bound to that. And then we find ways of not actually doing it.
Alexx:                   Oh, absolutely. And then people do the course like three years after they first clocked that it existed and they wanted to do it and they're like, why didn't I do this three years ago? That's crazy. And so the invitation is there to start connecting with the present moment for right now. Uh, and there's so much benefit to doing that and it's, it's hard to put in words sometimes when someone hasn't even engaged. But I know you have some really good beginner's meditations and I wouldn't mind including some links to resources in the show notes because, uh, you know, we've been told to meditate because it helps us lower our blood pressure. We've been told to meditate for all these reasons that are actually now becoming quite commonly known. But I think because it helps us connect to the present moment and that is really important to do. And this is why is really for me the more profound benefit of meditation flow on effects of our mental health state when we do it
Guy:                      did massive. And the other thing that sprung to mind then when you said connection is I think quite often we remove ourselves from people and isolation. We keep ourselves busy. Yes, busy, yes we interact with people, but how often do we truly connect with people? And there's huge studies around the healing benefits of just having an actual true human connection in life. And I also feel is that a big part of that is because we've lost connection to ourselves if we don't fully reconnect to ourselves and truly value ourselves. And truly, I'm just kind of sounds funny as a man saying this, but learn to love ourselves unconditionally in this way that you kind of, yeah, man. I almost all know who you are.
Alexx:                   Well, you hardly catch one bloke saying that to another, do you? I mean it's not common. It's really not in fact that you would be not frowned upon. But mate, what do you know? What are you taking? What's going on? Why did you say that to me? Yeah, thanks. It would be uncomfortable. And I wouldn't it be amazing is especially looking at the rates of suicide in men and boys. Uh, if we could actually de-stigmatize, um, genuinely loving ourselves and other people.
Guy:                      Absolutely. And, and reconnect into the full spectrum of emotions. And for men it's strange because we get this feeling that if we show any signs of vulnerability, we're just, I don't know, I've got to implode and disappear off the planet or something. We're hard wired in a way, but, but it doesn't even mean losing a masculinity. It simply means being able to honor the whole spectrum with these things and being able to look at it as opposed to running away from them.
Alexx:                   Mm. And do you feel like the real magic as an ex, well, football player, um, rugby player I should say, cause football is a totally different thing of course for you guys. But, um, do you feel like the real magic is going to be when people realize that they can bring this goodness into the most male of male, um, professions, roles, sports, careers, cause you see more and more athletes, men and women starting to embrace this work? PR connecting to the present moment, doing it like as a prerequisite before matches because it helps them perform so much better and it helps them have better sportsmanship. So many positives. Right? And, and yet it seems like our society still tries to say, well, you know, you're the macho type of mouth so this isn't for you. And I feel like the magical be when we realized this is actually for everybody.
Guy:                      Absolutely. Sadly, we live in a society where there's these idealistic things projected through a lens that's very accessible to most people, like by social media on the news and everything gets blown out of proportion. And we see in a very one sided aspect of many of our unconscious idols, even though we're not seeing it, but we're always comparing ourselves to certain things constantly. And I think that already starts shutting us down from these things. But, um, as from from me, all I needed was a different language and I needed an experience. And once I had those two things, the whole world opened up, everything, everything changed. And I truly believe that that's possible in every single human being. It's just being able to figure out what's the best way to reach someone and then certainly start to experience it being open to it. Because if you're not open to it, you can't have these experiences. If I wasn't open to my plant based medicine and felt like I'd be persuaded by someone else or wasn't sure doing it or a partner was forcing me to give this a goal or whatever, then there would have been a part of you that was closed off to it.
Alexx:                   Yeah. That's such an important part and recurring theme this month in mental health, uh, um, improvement shall we say for want of a much better word, but is that idea that we can't make someone want to expand their thinking to, uh, be curious. You know, we can present something. But in terms of them then taking action that really does have to come from within.
Guy:                      Absolutely. I only got off the phone literally about three days ago, days ago to a gentleman that came to my letter in workshop two years ago, two years ago, and he reached out my guard on the phone. He's a guy, I'm actually ready to come to the retreat. I only took him early, took him two years after being involved with the work and the conversation, you know?
Alexx:                   Yeah. And, and but that's a Testament to the idea that you present something, they have a little taste of it. They sit back and then it might be that little trigger that happens where they're like, Oh, I'm not proud of how I reacted in that situation or how I'm continuing to act in my relationship or whatever. I might reach out and take the next step. Um, yeah. And so I love the sound of your retreats and I really wanted to come to one last year, but unfortunately the dates just did not align. Um, so I would love to ask you about them because you've taken I think in 14 months you've run five sold out retreats now, which is amazing. Um, and they're called live in flow. Have I got that right? Um, yes. Why did you choose that name? Uh, and um, when people go, like is it a, a one day power retreat or is it over a long weekend? Uh, what do you feel like you needed to arrive at for the perfect kind of beginning, middle end situation to take people on that journey?
Guy:                      Yeah, absolutely. Well like they currently standard three nights held over four days or three and a half days in total. And we're actually running our first retreat in Portugal, mid April. That's six days. Wow. We wanted to take it longer again, you know, and we called it live in flow because for me originally it was called let go and live in flow and we kind of tied it down to living for, and I think that's what a lot of us are wanting to do is almost take this weight off us that we kind of carry around. But quite often we're not realizing we're carrying around and for me, living in flow represents the present moment and if you're present and you're here and you're now and you can embrace the joy, the happiness in that moment, then from there I believe flow exists because we're not anticipate in the future. We're not worrying about the past again, that you know that there's, there's this moment here now and from breeds a few things that what we found is most people are craving more purpose, more connection, more courage as well and clarity you could say. And from, from those aspects, I believe they only start to show themselves when we get back to the point of what we've been discussing all along about coming back to that present and being able to listen and things start to start to come through,
Alexx:                   turning down the noise, isn't it?
Guy:                      We we're turning down the noise to allow our own radio stations to start to be hid basically at the end of the day. And for me, if we're willing to do that, that's the flow is we can find ourselves in flow States all the time. But it's like how can we bring that into our everyday life? And the one thing we wanted to ensure from the retreats as well was to be basically bring people together, connect people together, almost bring it into my community together. Cause it's intimidating and it can be strange. You come in, you come in up to,
Alexx:                   and so many different walks of life, right? Different ages. Absolutely.
Guy:                      But what people forget is that really a, we're all the same. At the end of the day, we all have the same shit. It's just wrapped up in different names. And but from that as well, the people that come to a retreat like this are people that are ready to really look at this work and do it. So, so there's a common unity there. And if what we wanted to do, if we can create a safe environment, get people out of the current environment as currently remind a number of who they think they are at those moments, it can be very difficult to create a change. So the first precursor to change is actually trying to remove them from their environment, from their family and their friends to a degree. So they have an opportunity to just be themselves and then create a safe place allowing that. Because once we feel safe, once the body feels safe, it's willing to open up and look under the hood, so to speak.
Alexx:                   Yeah, absolutely. Yeah. And we need to feel safe to peel a few layers back. Otherwise we're just not going to do it.
Guy:                      No, it's prerequisite. Absolutely. So once you know, people come and then meet us. I mean quite often people are coming through my podcasts so they feel like they know me to a degree anyway cause they have my voice, you know, on every week kind of thing.
Alexx:                   Yeah. That happens for me as well. Not knowing you, but knowing you. Yeah.
Guy:                      You know, so, so all that, all that's wonderful. And then it's been able to understand how the body works and been able to use different processes to elicit different responses, to allow people to start to look at the very things that are needing to shift and the things that need to shift beyond the thinking mind. Otherwise we would have solve the problem.
Alexx:                   Yes, exactly. We need to be of another mind to start to shift them. Absolutely. So everything is in the mind
Guy:                      and that's where we need to go to get into it. And, and from there we then take people through, start to look at those things and what comes up and what starts to move. I mean it's a very hands on retreat. You work, but the people start to connect and come together and then there's the support from each other. And it's, it's always the community that really, um, really helps. It's the, it's the missing component I think with a lot of this works when you bring people together like that and support is there and people are hearing, Oh, they just had this experience and they saw it this way. Or vice versa, them say. And that actually helps somebody else directly in the room without even knowing that. So it's a beautiful place to be. And then then once, once we kind of moved things there, we kind of allow people to come back, become more grounded, come back together before they go back home.
Guy:                      But for me, what's really important is remember when I was talking about the nervous system earlier and actually if we have a heightened experience for a positive or a heightened experience for a negative, that the nervous system retains that information. And these, for me, what I love about the retreats and why I'm so proud of them is that it's allowing people to have a really heightened experience just like I had in the past as well, that they can all of a sudden start to feel these unconditional love, joy, gratitude, but really feel it at a visceral level. And that is actually entrained in the nervous system with a very different signals. So when you go back home, back into your lives, once all that starts to settle down, you have a new reference point that you can call upon any time. And tap back into those feelings and experiences.
Guy:                      So if you're willing to have a problem or a challenge in your life that is reoccurring or is coming up. So what we normally do is go back to the default mechanisms and behaviors and try to solve that challenge with the same way we're always doing it. And it creates an emotion that emotion creates thought and we keep repeating the patterns and we feel stuck. But if you're then able to, especially with the things that we teach and some of the things we've touched on, come back to that moment, you have this challenge, but instead of going back to the default mode, pull upon those experiences and feelings that the nervous system has now learned that you can recreate more easily because it's got a new reference point, it's got a new map, it's created new neural networks within the brain and within the body to start to hold and support that.
Guy:                      So you can start to feed those. You can start to feed that map, those roads and water that plant as opposed to the one you've been doing the whole time that's holding you back. So all of a sudden you start to look at a problem or a challenge with a different lens because of the feelings and the experiences that you're creating within the body. And the reality is we only see problems like our mind is so limited, we can only see a, B and C as a solution. That's a whole alphabet of options beyond that we don't see, and for me it's that if you're willing to get back into those States and train the body to be more encouraged by those States, you then start to see other options and that allows you not to feel trapped and that allows you to move forward.
Alexx:                   And that's when your synchronicities start to show up. And all of that kind of stuff starts to feel like, Oh, life is just in flow. Um, yeah, exactly. Instead of this push, shove kind of dynamic that a lot of us struggle with in modern life, but it takes work. And so let's talk about that because it's not a magic pill. It's not a silver bullet. You don't just arrive, do you three days at the retreat, boom, I'm done. I'm healed. I'm sorted. I'm a positive thinker. Now that's, I mean, would that it were true, but it is not. So what does it look like when you leave a retreat like this and you've done this work and you've really felt some profound shifts and you don't want it to be business as usual anymore, but it's so easy to slip back into old ways, especially if you haven't cultivated enough yet on a regular enough basis. So what does the maintenance plan look like?
Guy:                      Yeah, well, like I believe with anything you need to set yourself up to a degree like this. There's always an onus and the responsibility for our own actions and what we encourage, especially when you have these experience in the retreat, but there's an element of still having to do the practice. I always say meditation is what you do with your eyes open during your day. It's been able to to be able to become conscious from the unconscious patterns that are coming on. You have these, you have these experiences, you have these heightened experiences and then when you, when you come back home it's like the default mechanism. The bar has been raised a bit. You have that reference point to come from. The most important thing again is connection and community from that as well and be able to talk about it so that, so everyone from the retreat, there's a Facebook group, there are people are coming in, there's meet ups, there's net books. So people start to have that because quite often they come back and they can't talk about it to their friends because they think they've lost the pot while try explaining it.
Alexx:                   Yeah, you definitely need to surround yourself with, with people who are either genuinely loving and curious about your experience so that they will be great listeners or with people you can workshop stuff with and not feel ashamed to bring it up.
Guy:                      Yeah, absolutely. And I think the most important thing that we always stress for people as well is how you set yourself before you come to the retreat as well. Because it's quite easy to get caught up. Just like, I'm going to do this one day, I'm going to do this next week and so forth. Um, and then, and then we almost put this unconscious expectation like you said that this is going to fix me this movement done and then I can go back and
Alexx:                   work 50 hours, 60 hours a week and carry on. No, my partner and I smoked 20 cigarettes a day. Yep.
Guy:                      Yeah, absolutely. You know, but anything in life that I've achieved or any level of success has always taken effort. There's always the daily, it's the labor of love that you do daily where the longterm rewards pay off. There are no quick fixes. And, and even if, um, the retreat experience, uh, from a positive, if they are new to this and if they are in that mindset where I'm coming in for quick fix, when they leave, they realize, wow, there's actually work here to be done. You know, it's not about going back and just switching off. It's about cultivating that regular practice on a daily basis and coming back to the present moment. It's about being able to scan how you're feeling right now. What are my thoughts right now? My thoughts and feelings and not me. They're just the byproduct of how things are happening within me at this moment of time.
Guy:                      There's a part of me that's way beyond that and it's been able to come back to that and interrupt those patterns and start to nurture the emotions from that place. And as you come back from that place, that's where you start to really start to tap into gratitude and joy. And for me, it's really important to cultivate a daily practice where if it's even five minutes a day, which allows me to come back to there and try to see things from a different level of mine because at the end of the day, you want to create inspired action to create a change in your life. Otherwise we end up making choices that keep repeating the same thing and that, you know, I'm at the end of the day, things lay beyond the norm quite often. The things that we want, there's this unknown mysterious thing and it's like there's this gap and it's like, well, how do I get from there to there?
Alexx:                   Yeah. I like your alphabet analogy. You know, we know that a, B and C in our conscious mind, and then there's the whole alphabet beyond that in our unconscious.
Guy:                      Absolutely. You know, and I always say, you gotta lean in, you know? Absolutely. Once you do a retreat, you don't go back and you just think, great, I'm just going to carry on as normal. Uh, it can be, it can feel a bit strange at first because we have such experiences of love and joy. There's these emotions that are heightened. It's like, Oh my God, the, it's like every cell comes alive and it might daughter had an experience like that in 10 years. Like the body's like, give me some more of that please. That is fricking awesome. And then of course we go back into life and it's like, Oh, nobody's actually around me has experienced that before. What's going on? So we do have to make a conscious effort to start to put ourselves around people and in communities and things that actually stopped to get to get, it means the vibration, raise the vibration.
Guy:                      At the end of the day, I only put myself around people I want to be around. Honestly, you know, my life never used to be like that. But you know, 15 years ago I made a conscious half, but I started to design my life. What is my perfect day look like? How, where am I going to live? What do I want to be doing? What you know? And even though, um, I was just a rough stroll, I kind of knew I had to go that way instead of the direction that was currently going continuously. So I started doing, go into different retreats. I started having different experiences that would start to support me and allow me to have the courage and confidence to actually move into the life that I wanted to be moving toward. It doesn't mean you have to abandon anyone or change anything. Like I said at the start, it's, there's an accelerator, there's a break. For me, at the time I was single, you know, I'd come to Australia, the only person that was going to let down was myself. So I could, I could obviously put the accelerator on a lot quicker than if I had a family and children and things and so forth. But I think the biggest struggle is indecision. I think making no decision is worse than actually making a decision. That's wrong.
Alexx:                   Mm. Hundred percent. And I think really, as you said, it's not about abandoning everything. For me, it's almost, um, best described as injecting more sense of real joy and love into your every day life. It's not about leaving a job, destroying a relationship that might've otherwise actually been okay. If you learn to bring more joy into your present moment, you know what I mean? I think we start with that as the goal and that, that incredible or that we have for the present moment as we do more and more of the work. And in fact, a lot of the things in our lives start to be far more lovely that we might've actually been frustrated with or upset with or thought we needed to change. Actually, what we needed to change was ourselves.
Guy:                      Absolutely. If there are triggers going off in your life constantly, we always try to change in the triggers, but the triggers that are an opportunity for us to turn the mirror on the sides and look upon what aspect of ourselves has been triggered by that.
Alexx:                   And that could be a big fat ouch to realize that
Guy:                      it's, it's, it's, it takes courage to do that, but it's so rewarding. Why? Why perpetuate the same feeling of frustrations and anger, guilt, whatever that might be every day when, if you're willing to look, flip the lens and look at yourself. I get relief from that. Like it's like pulling a splinter out. Why walk around with a splinter in your foot constantly and blame the tree. You know,
Alexx:                   the splinter in the first place. Yeah. Get on with it. Yeah. And you hear so many people develop deeper satisfaction in their work, their relationships, their friendships, their parent, child communications and relations.
Guy:                      I think we lose sight of what it is. Makes us happy. We are so caught up, you know, we, we scribe, we purchase things, we consume things, we do things, we do that all the facilities needs and feelings inside. I've found over the years, I don't know where you are, but it's the simple things in life that have actually been up.
Alexx:                   Yeah, yeah, absolutely.
Guy:                      And it's like, why am I getting a quota? It's not just an elusive carrot that is that going to really bring me the fulfillment or is there something deeper that's driving me over there?
Alexx:                   The guy. I totally agree. And for me it always comes back to simple, simple metaphors to help people realize that. And for me it's the consumer metaphor of the fifties marketing, um, uh, movement that was born where they started to cotton onto the fact if they gave us problems we didn't realize we had, they could give us products to fix the problem. And that was really what kicked us into this hyper consumerist focus. Um, and this insatiable need for stuff to try and find. I finally fixed all the problems or I've finally bought all the things that are gonna make me happy or family surrounded myself with all the stuff that's going to be making my life beautiful enough. And, and it's all an illusion, you know? And if you have to think about that ultra white bright, super foamy, um, you know, washing powder add from the fifties to make you realize that about everything else, then I find that really helpful cause it's just such a basic, Oh yeah, of course AF are whites aren't supposed to be tinge blue to have the illusion that they were extra white.
Alexx:                   You know? And for me that's like a metaphor of life really. Um, we're not supposed to have ultra anything. We're actually just supposed to be deeply, you know, able to connect to ourselves and to other people. Yeah. Yeah. So now, um, something I wanted to ask you before we wrapped up, because I, and I'm sorry to go back to the retreats, but I know your mom well you didn't take your mom on the retreat. She was probably out here visiting you guys and uh, uh, timed it so she could come along and see your work. How was that for her watching her son in action, but also what kind of a personal journey did she experience going on one of your retreats? Cause your mom's 75. Yeah,
Guy:                      yeah, yeah, it was incredible. I mean our retreats are active as well, like the yoga that, you know, we move the body as well. Uh, there's obviously different experiences and um, I really believed in her and I said, look, if would you like to come? You're going to be out here and experience that. She'd been to my one day workshop in the past and she listens to my podcast, you know, so she was, she was, uh, she was open to it, you know, and, and it was incredible cause I was worried about her mobility because, you know, I'm walking up a flight of stairs, you know, she need a railing of things. This is not a beautiful retreat where there's stone steps going down. And I thought, I'm just going to leave a B. And I said, mom, all you need to do is you pass.
Guy:                      I don't care what your yoga practice looks like. I don't care if, if you have to pull out of any of the products, anything. I said, just do your best. Don't worry about it. You feel you'll be supported by that. She goes, I will. I'll just do my best. And she turned up for every single process. She, she just gave it her full go. And it was, I was so proud of it because to see that in my mom, the 75 year old who has mobility, who would struggle to get up from the floor, that as a son, my automatic response was I just want to run over and pick her up and help her up, you know, but I had to just leave a B because this is about her finding their own inner strength. This is about her finding from that. And first of all to see that was amazing. And to see her inspire others in that retreat. And it's wonderful now because I can say, well if my 75 year old mom can come and do this, anybody can do this. Like it's not a case of ability at all. It's just the case of do you want it enough?
Alexx:                   That's so true, isn't it? I remember seeing, um, you know, cause we've both been under dr Joe retreat and that I remember seeing the, to the 70 year old boomers, abs sailing down the side of a 32 level building in Canada with Parkinson's disease. And you're thinking, okay, if they can do that. And you know, I think that's part of human nature, isn't it? We want to see it done to be inspired to do it, to then do it ourselves. That's one of the things that motivate us, but that is why we need elders, but we need to preserve that relationship.
Guy:                      Oh, it's so important. It's so inspiring. That incredible. And like speaking to urban, yesterday I was so honored to have an 88 year old man come on and speak all this wisdom. You know what was amazing with my, my mom's experience. But there's a couple of things. One which are shared on social media a few weeks ago is that, you know, cause we work in with meditation. We're working with the quantum field at the end of the day and we're working with epigenetics. We're working with, um, looking at things at an energy and vibrational level. And she, her shoulder, she had an accident 15 years ago. She broke a call, a bone, but she also severed nerves in the shoulder. So she could never raise her arm above shoulder level. She couldn't, she to scratch the back of her head or pick up a cart in the milk. And there was a process there in much some journey and you know, cause each process it's ideas to support each other and layer upon each other and layer upon each other.
Alexx:                   And did you say mats sound journey there? Yes. Yeah. One of the people you work with. Yeah.
Guy:                      Yeah. Sorry. Yeah. When she was holding her right arm, I could see there was something starting to shift for her. And when she came out of the process she said, Oh my God, my, my shoulder got so hot and intense, intense five minutes a shoulder. And then she looked at me and she just stuck her arm straight up in the air. Wow. She was like, I haven't been able to do that in 15 years. Wow. It was incredible.
Alexx:                   The sound healing thing, it feels like a whole nother conversation we need to have. It's incredible sound.
Guy:                      Yeah. So, so to, to see that was was incredible. And I've never minded the listeners. They're pretty open minded.
Alexx:                   Oh, super open-minded. Absolutely. There wouldn't be much that would shock them. Guy, I've never shared
Guy:                      this publicly on, on podcasts before, but with my mom, my dad passed away, um, uh, seven years ago and, and you know, with the, with the work we do, we, we, we connect into the source field of energy. At the end of the day, if we get beyond the analytical mind, train your awareness and use different processes, we can connect to that field. Cause we raised our own vibrational energy and from that connection, insight can come in from different information. And she reconnected with my dad there while I was there. And it was such a healing moment for all three of us really at the end of the day. And it was beautiful. And there it was, I was like such an honored son to be able to have created this space where something like that could have happened. And the, the message God's my mum was to enjoy life, live life, you know, you still have it can thing.
Guy:                      So it was, um, for me that was very healing as well. Cause you know, if anyone has lost anyone, you, you grieve. But you carry that. So all these moments add up to our own internal healing. And when we see that it's not a hop on in different people and reconnect them to different things and getting different messages that are coming through, I think it really allows us to, like I say, start to really tune in on focus on the things that really matter in life. I start to let go of the things that don't and until we started having those experiences, it can be hard because we keep recreating, but we have to start somewhere.
Alexx:                   Yeah, we do. Absolutely. And, and so I think that kind of leads us perfectly towards the last thing I want to talk about, which is where we take awareness of doing this kind of work, um, into action. Um, and those are really the two bookends of your four pillars. Do you want to speak to those?
Guy:                      Sure. Yeah. So one way kind of look at the work. Now you've got awareness, acceptance, then intention and then action. And we need to start to think a nurturer all about them. Obviously awareness is where a lot of the training happens because if you're not aware of the problem, how can you be even aware of any, what's the change? So the first thing we do, we become aware of something and then, and then we either run away from it or we, we lean into it, you know, but from, from awareness, uh, that can start to, if we want them to look at ourselves, like I was saying about the mirror of other people trigger it and it's not to look at those things within ourselves, then quite often we need to accept the current situation. If we're not willing to accept where we're at, what's, what history has, uh, happened to be here, we never really going to fully embrace the present moment. So acceptance is a big key and can take some time depending on where it is, but it's not a fully accepted situation because whether we choose to carry the things in the past or not, our situation will never change.
Alexx:                   Mm. And is that part of that? Um, just as an example that might feel really tangible to people is that victim mentality. Like you're just not being able to let go of all these bad things that have happened to you, which have led you to being where you are.
Guy:                      You just, you just recreated the drama. Like you recreate an emotions and the thought patterns and the feelings of that incident and yes, trust me, we have some heavy, we have some people that have had some serious strong or not every one. We've had some people that are just love seekers and just want to self develop and keep going. Like, you know, we get all the spectrums but at the end of the day, no matter how much we Fest on something, it doesn't serve us moving forward. So it's about how do we break that cycle and the fun. The first thing is being able to accept something. We've all, somebody had us up in traffic, we lose the plot.
Alexx:                   I live in Sydney mate, you don't need to do
Guy:                      I we got this rage. So, so, so how long did we carry that rage for?
Alexx:                   I giggled at the rage. I opted out of the rage. Yeah,
Guy:                      yeah, exactly right. But, but there's normally that rage is kind of a problem with something else, but that's probably aggravating it in the first place. So there's an acceptance part of it. And then what's our intention? What are we, what are we bring into the table and every, every act that we do each day. I love the analogy. Um, I was talking to Petra who's the other facility of our retreat talking about this day. Intention is like think of Cupid and Cupid arrow. What, when you got the love hearts behind it, right? So, so it's almost like intention is what's, what's the energy beyond the arrow? You're firing the Cupid and that's the love component. You, you're firing your level off to that target over there. So what intention that you bring it into everything that you do? Every action, every labor of labor of love, right?
Guy:                      Like what,
Alexx:                   what is called that?
Guy:                      Yeah, exactly. So, so, but you can get very clear and intention so much so you can actually direct intention to help other people as well. And you can magnify those intentions, which is quite incredible. But if you want to look at that, so what's the energy? What's the juice? What's the dew that's behind the very things that you're doing? And I think that's a really great place to start. So once you become aware of something, you can accept something, can you start to bring a different intent behind the actions that you're going to now start to make forward? Cause if you like, I'm all for, you know, raising your vibration flow with life and allowing things to synchronistically work with you and move with you. But you still have to take action. You still have to meet your dreams halfway.
Guy:                      You still have to overcome the obstacles or whatever they are in your way. And I think part of the human experience is to be able to learn, evolve and grow. And from those lessons we become, we evolve in our own consciousness, their own awareness. So we have to meet it with action and conviction from that. But it's what's, what's the main source behind those actions that are driving it? And then what? And then what you can do is through the teachings is actually start to look at them at a much deeper level and start to break most down, you know, which is what we do with the retreats ultimately at the end day as well.
Alexx:                   Yeah. Brilliant. So good. And I think if we could, uh, you know, if people are feeling aware and they're starting to accept and they're setting intentions that they want to take action, I think the first thing they can do is head to the show notes and grab a link to, uh, one of your meditation. So here's get like a teeny tiny taste and get along your way. Um, and uh, and as a way, it's just such a pleasure to chat to you Guy and help more people out there perhaps developed some curiosity around why this could be valid and important work to do in their own lives. Uh, I think there's a reason stress is the number one searched for and about topic online in health. Um, you know, we do need to change, something needs to change. And if we can start to realize that it's not all about everything out there doing bad things to us, it's actually the real change starts when we change ourselves and we change our perception. Uh, and we connect to that beautiful present moment. Uh, the things out there tend to change anyway by default. So it's, um, it's such a valuable, important work and I appreciate that you took that light to help teach many people
Alexx:                   how to do it.
Guy:                      Thank you Alexxx and thank you for having me on today. I really enjoy our constant.
Alexx:                   Me too.
Guy:                      Beautiful guys. I hope you enjoyed that conversation with myself and Alexx today. And of course we want to find out more of what I'm up to or when our retreats are opening back up. And what we've got planned is come back the guylawrence.com.au or even liveinflow.co and anyway, have a fantastic week. Much love for me and I'll catch you soon.