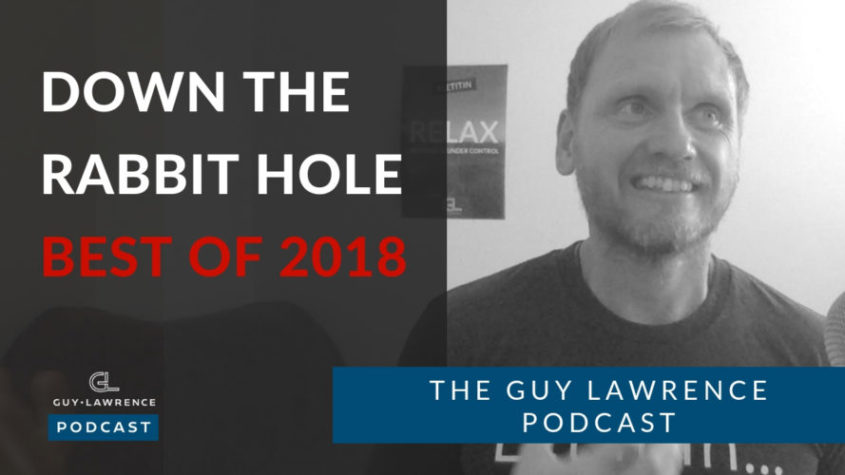 #50 I can't believe it. I made it to 50 episodes of The Guy Lawrence Podcast!
Could there be a better way to celebrate as my 50th episode falls smack bang oil the first episode of 2019.
When I reflect on all my guests I have had on the show so far since I began it in February 2018, I honestly feel blessed to have had these conversations and be able to share them with you the listener. Without you tuning in and your support this show would simply not exist.
For this 'Down The Rabbit Hole' special, I've chosen six episodes from the forty nine and spliced it together with a bit of inside and personal journey on why they made it to my six. Actually selecting six for me was almost an impossible task as hand on heart I've loved everyone of them in my biased opinion.
So sit back and enjoy and hopefully you'll come across a few you may not yet have listened to. Enjoy!
Subscribe On:
---
About Guy: He is a coach, speaker, podcaster, wellness advocate and entrepreneur. Originally co-founded natural supplement company 180 Nutrition in 2010.180 Nutrition became one of Australia's leading natural proteins was a Telstra business awards finalist and gained multiple national media exposure or their efforts. Guy also founded the no1 ranked iTunes podcast 'The Health Sessions' achieving over 2 million downloads whilst interviewing some of the worlds pioneering health experts and New York times best-selling authors.
With over ten years in the health and fitness industry, Guy has also explored many facets of health including what's deemed 'alternative' and the measured effects on the body; from using meditation and neuroscience to create altered states of consciousness, shamanic rituals, cold exposure and breath work to name a few.
His latest project 'Let It In' is a community based platform that helps people bridge the gap between the life they live and the life they truly want to live. Guy shares his findings via his workshops, retreats and 4 week online program, creating a space for individuals to come together as a community that supports transformation and change.
►Audio Version:
Links & Resources For Guy Lawrence:
www.guylawrence.com.au/podcast
Ps. Whenever you're ready, here are 3 ways I can help begin to create lasting change in your life with this work.
1. Grab my free Daytime Reset Meditation
This is the very thing I do daily. And it only takes 7 minutes! The benefits are endless and a swear by it. DO NOT underestimate the power of this simple process– Click Here
2. Subscribe to my podcast. It's completely free
Here I have conversations that go well beyond conventional health, wealth and wisdom to inspire us to be the best versions of ourselves daily. Guests include world leading experts in this field of work. Join my newsletter to stay up to date or…  Subscribe on: iTunes | Spotify | Stitcher | Youtube
3. Join our Let It In Academy & connect with others who implement this work
This is where the rubber meets the road. Be part of a supportive community and also have direct access to me. This is a proven program to demystify meditation and help create transformation from the inside out – Click Here