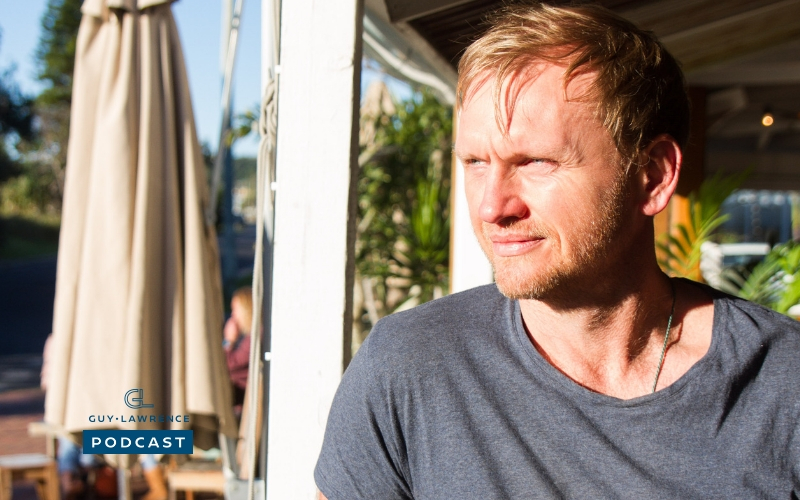 #80 It's been a while since I did a solo podcast. This list of 12 has been swirling around my head for quite a while. I hope you find it helpful 🙂 Enjoy!
Subscribe On:
---
About Guy: He is a coach, speaker, podcaster, wellness advocate and entrepreneur. Originally co-founded natural supplement company 180 Nutrition in 2010.180 Nutrition became one of Australia's leading natural proteins was a Telstra business awards finalist and gained multiple national media exposure or their efforts. Guy also founded the no1 ranked iTunes podcast 'The Health Sessions' achieving over 2 million downloads whilst interviewing some of the worlds pioneering health experts and New York times best-selling authors.
With over ten years in the health and fitness industry, Guy has also explored many facets of health including what's deemed 'alternative' and the measured effects on the body; from using meditation and neuroscience to create altered states of consciousness, shamanic rituals, cold exposure and breath work to name a few.
His latest project 'Let It In' is a community based platform that helps people bridge the gap between the life they live and the life they truly want to live. Guy shares his findings via his workshops, retreats and 4 week online program, creating a space for individuals to come together as a community that supports transformation and change.
►Audio Version:

Ps. Whenever you're ready, here are 3 ways I can help begin to create lasting change in your life with this work.
1. Grab my free Daytime Reset Meditation
This is the very thing I do daily. And it only takes 7 minutes! The benefits are endless and a swear by it. DO NOT underestimate the power of this simple process– Click Here
2. Subscribe to my podcast. It's completely free
Here I have conversations that go well beyond conventional health, wealth and wisdom to inspire us to be the best versions of ourselves daily. Guests include world leading experts in this field of work. Join my newsletter to stay up to date or…  Subscribe on: iTunes | Spotify | Stitcher | Youtube
3. Join our Let It In Academy & connect with others who implement this work
This is where the rubber meets the road. Be part of a supportive community and also have direct access to me. This is a proven program to demystify meditation and help create transformation from the inside out – Click Here
TRANSCRIPT
Guy:                      Welcome to the guidelines podcast. I'm your host Guy Lawrence. After building a successful health company and the number one podcast, I decided to do something deemed a little crazy. I let it go, set a new destination called the unknown and use my heart as it come to us. Each week I sit down with great minds as we explore topics beyond conventional health, wealth and wisdom to inspire and ignite the passion that's within us all to create the life for clue one. So my question to you is, are you ready to let it in? Hey guys and girls, this is a guy you, of course you're hosting when you're listening to the Guy Lawrence podcast where I have awesome conversations that go well beyond conventional house wealth and wisdom to inspire change in our lives. And I'm having an awesome conversation with myself today, but kind of cause obviously you on the other end of listening and hopefully, um, you be glad that you listened to this episode because, um, I was actually struggling to name it to be honest with you.
Guy:                      It's a solo podcast as you can tell. And, uh, I've been, there's been whizzing around my brain for literally weeks, if not months. That's the way my mind works. And I had a no pattern pen and I ended up writing down 12 pivotal points and I was kind of like, oh, where are these points mean? And the things that I've found have a huge impact on me. The like the staples in my diet if you like, but in life, um, you know, you go to things that you kind of use and, and I find myself talking a lot about these, um, with people. So I thought I would put them into a podcast and whether you could call it the 12 steps to freedom, you know, uh, my 12 steps, not the 12 steps. These are just my 12 steps or, you know, another way of looking at it is there are things that are served me like that, that give me energy and make me feel energized to be my best version of myself.
Guy:                      And then there are things that suck energy and take out, which, you know, I, I believe, but, you know, that's life things are required. Um, they have had things happen and you've got to deal with it. You know, all the good, the bad, the highs, the lows, the happy, the sadness and all the rest of it. It's not about that, but because I found myself taking action today to finally do this podcast cause, um, I was funny enough, I was on a podcast being interviewed this morning on a business podcast of all things, which was wonderful and sharing my experiences. And then afterwards I just went and I, you know, I'm living up just north of Byron Bay and I took an ocean dip and it was winter here, but I was standing there in the sun for about 10 minutes, literally just fill in the salt on my skin, the breeze and, and this, the sunshine, you know, it was just beautiful.
Guy:                      I just felt so grateful for this moment, that moment I had. And it was not always like that for me. Like it's, it's been a long journey and it's, there's been some for big, big learning, things along the way. And it kind of the kind of knock you around a bit, in life. Uh, if you've been to my workshop, you know, I shared different stories and stuff, which I don't get, I won't get into today. But ultimately I find myself then being led and having deeper understanding about myself and about different teachers. And I kind of been my own victim in the past if you like, like, you know, it'd be my own worst enemy. And, and from learning and understanding and not being too hard on myself, I adjust my approach. So these things then resonate with me. You know, if you give me this list of 12, even five, 10, maybe 10 years ago now, I would be like, I love, it's great theory, but what I probably wouldn't have practiced it, I wouldn't have embodied it.
Guy:                      So I urge you, you know, if you've got a pen and paper, make some notes. So come back to this podcast again and, actually even, um, score yourself or, rate yourself on how you are on these areas because I promise you these are the things that I actually do. And have been pivotal. Makes Sense. So then, you know, anyway, let's get on with them. So the first one, first thing I wrote down on my list, and it's a no brainer really, especially if you know me, is gratitude. I have a gratitude practice and I practice it daily just like I did on the beach today. Um, I, I think it's a fundamental thing to have gratitude in your life. Um, you know, you might've, you'd mentioned it before, but with all the podcasts I've done over 200, if you include one 80 nutrition and people I've met so hugely successful people and they've all sort of said, it all stems from gratitude.
Guy:                      If you're willing to have gratitude in your life, things tend to show up. And I, and I truly believe that if you can get yourself to a place but, that gratitude has got to be embodied, you know, and when things are hard, when things are tough, when it's cold against us and it feels like the weight of the world's on top of us, it can be even harder to get to that point. But I think no matter what, where our position is, there's always something we could find to be grateful for. And then when we find it, we really need to feel it and embody it and honor it. And if we can cultivate that practice in the smallest and the toughest circumstances, boy, I've just found over time my life's has got richer and richer and richer just from that practice alone. So ask yourself, do you have a gratitude Crack this like, do you genuinely interrupt your day, sit down and take the time to feel gratitude and feel your emotions of love, joy, appreciation of the people in your life, the things in your life, the things that we can take for granted because we get caught so caught up in society.
Guy:                      It's a great practice. It's a great reminder. And uh, if you don't know where to start with that as well, I do. I'm not sure if you know, but I do have a free seven-minute meditation. I've actually made it easier than ever now back on my website. [inaudible] um, that you can just download for free and stream at any time. And there's a couple of other things that come with it as well. Um, and I actually use the frequency, uh, the sound to help resonate with the heart as well, to evoke emotion. So give it a go if you haven't, no excuses and just practice daily. So you go, alright, number two, God, this is very predictable. So far isn't it? Meditation, because I don't, I teach it, but, um, what can I say? Meditation has been a game changer for me. And, and for cause I'd never used because I'd never really understood it in the past.
Guy:                      Then I never looked into it because I didn't understood. I just ignored it and I kept pushing it away. And I find that common for most people just like I was. But, uh, I urge you to step beyond that, explore beyond that and start bringing it in. Um, and combined with a gratitude practice, uh, it's insanely powerful and I've got plenty of podcasts. If you listen on a regular basis, um, why meditation could be, um, helpful, beneficial. But I promise you guys, it's the greatest adventure. Or I was only saying on this business podcast this morning, you know, I've jumped out of airplanes, I've bungee jumped, you know, not adrenaline seeker, even though they are quite adrenaline things. Um, you know, I've got a Ducati motorbike I zip round up here in the nose, rivers where I can get a bit of speed very quickly if I want.
Guy:                      Um, you know, I'm an entrepreneur, you could say at, you know, or I've got different businesses that certainly gives you a thrill and you know, there's adventure around all these things, but there is no greater adventure than going within. I'm telling Ya why once you start exploring this energy centers dimethyltryptamine quantum physics, I promise you it is, uh, amazing and that can certainly have a profound impact on your life, who you are and the direction you go. And so if you don't know where to start again, just come back to my website. No excuses. Like it's, it's all there for you. The only thing I think that stops us is just taken action in their own belief systems. So the third thing, let's go onto the third thing that I truly believe is critical and that's to move an and, um, I have something daily now.
Guy:                      I, they actually keep them on the separate camps where movement is just, I move. Um, I try not to sit all day like in recording this standing up at the moment at my standing desk. Um, I remind myself to get up and walk around and I'll stretch if I, cause I am spending a bit of laptop, laptop time at the moment. Um, but movement for me is critical because that movement inspires action because it's just, you know, you send an a very different signal to the body, into the brain and it can really change your states. Uh, quite often. Uh, obviously there's a lot of health benefits as well, but if you find yourself sitting a hell of a lot and static, um, we get used to it and we get used to the mindset and the negativity that that can bring. I find. Um, so you know, finding ways to move more, uh, is crucial.
Guy:                      And then of course they have exercise on top and they do obviously come into movement. But you know, being in my forties now, um, I certainly um, maintain, I wanted to retain muscle mass cause uh, that's, that's the deteriorate as we get older. Um, and uh, evoke in growth hormone as well, which is really important and different hormones in the endocrine system all around weight training. So I incorporate weight training twice a week and you know, find that edge. It helps me keep me mentally strong as well. It's important. And I, I've been religiously doing yoga as well as three times a week, sometimes four. Um, throw in a little bit of surfing or swimming and getting wet and go for walks and things. There's a whole random practice there for me as well. And if you find yourself way off that, you know, it's a step by step process, but definitely start introducing things, uh, that's gonna um, bring more movement and exercise.
Guy:                      Cause for me without that, it's like, oh, I just can't, couldn't, couldn't do any of the things I tried to do and achieve and be able to help others without bringing them things into my daily existence. So things to think about. Okay. Number four have written down is um, I've got growth mindset written down. I think, um, I, I will always look at things too. What, whatever. I got you. Um, okay. I'll always look, sorry, I just can't even read my own handwriting as I got this. Um, a growth mindset. You know, I, I think there's a couple of ways you could tackle this, but I'm forever trying to bring a beginner's mind into everything I do and have a bit of a humility behind it these days. You know, I certainly don't know anything. Uh, everything. Uh, I know somethings I don't know nothing, but, um, but at the same time I want to make sure I'm inputting and challenging myself, challenging my beliefs and challenging the current status quo of how I see the world and how I perceive it.
Guy:                      Because quite often I'm wrong. And, uh, quite often in the future looking back, you know, once you start to have wisdom of life behind you, you um, you can sort of look back. I think, oh, I could have done that differently and so forth. So what's for me to think that I'm not, that's not gonna be in another five years time looking back at this present moment. So, you know, I like to have a, I have like to have a book lane around that pickup and I tried to discipline myself even if it's a couple of pages a day or Skerton or I like to watch an empowering youtube video or something that's positive in alignment and I'm constantly trying to bring in, um, a mindset that's hungry for more. Uh, but at the same time with a group, for me, a growth mindset is actually ensuring that you apply these lessons cause we can be guilty of being consumers of information.
Guy:                      I'm sure, you know, I listen to podcasts, you know, you're listening to mine right now. And like is a growth mindset just listening to this? Like you could listen to these 12 things that I talk about and then do nothing with it. Have you grown from it or does the true growth come from yes, taken on that information but then actually action in it, implemented it. And for me, the growth tends to come from the embodiment. That's how I like to learn while I'm in the game. You know, I'm trying it and feeling it. There's my centers and I can get an understanding of those things that are going on. And uh, and that's when I think true learning can, can come, come from, and of course then getting a little bit uncomfortable and stepping outside of ourselves from that. So that, that's something I continually find to do.
Guy:                      And if, if that was taken away from me, yeah, I'd struggle for sure. Um, number five. Number five, I've got a hell yes. If it isn't a hell yes, then it's a hell no. I've, I've gotten very good at saying no these days. Um, I think y, you know, life is challenging. Life is challenging enough as it is. And for me, my attitude is now, if it doesn't truly like me up, and if I'm not passionate about it, if I'm not getting in there 100%, then I generally say no. And I really don't mind. And I think it's better for people all around, you know, um, I used to be a people pleaser to be honest with you. I found myself saying yes to things cause I didn't, I, there was a part of me inside of me that maybe didn't want to upset the other person or wasn't sure or I think, oh, this is gonna open up a can of worms, blah, blah, blah.
Guy:                      You know, but I actually think it's really healthy because then when I do say yes, you get in, you're getting me all in no matter what. And Trust me, you know, I've got a podcast, I got people pitch into me, I've got different things coming on, I've got different projects and, and sometimes you can, yeah, I myself saying no a lot and it's great. And, and I think we should own that because, because if we find our truth of us, if we can honor our voice, if we can honor ourselves and what we do, then, um, then it becomes important and we'd need to become congruent. So if I want to help more people and I want to serve and I want to grow a business and I want to, uh, bring this work and things into fruition and whatever is in your life too, right?
Guy:                      There'll be lots of things and passions and stuff. But if you're saying yes to everyone all the time and you find the upset and everyone all the time, then is that really serving you and is that serving the things that you want to do with your life moving forward? So, uh, I, I, if, if this resonates with you, either highly recommend you check out the, our previous podcasts we did last year with Dr Mario Martinez where he, um, he had studied longevity and studied about people, centenarians, you know, people live in over a hundred years old, but we're healthy, happy and strong as well. And, and, uh, one of the common traits was they had like this, the self righteous attitude where, you know, hey, if you want to, uh, you want to meet me, yeah, for sure you've got me for coffee, but you can only do 9:00 AM Saturday and that's it.
Guy:                      All the rest of the time I'm doing this, that and that I'm off dancing or whatever it is. So they didn't bend to other things. So I think that's really important for me. I've found them. It's an yeah, it's definitely helped over the years. All right. Number six. Now the no brainer. Eat well, I mean, now in seeing that for me nutrition is just, yeah, it's pivotal of how I feel. My mood. I, it still amazes me today that people don't have a relationship with the food and food is information and that information has gone into your body and given it a very certain signal. And if we're elevating our blood sugar levels all the time, you know, if we were not moving much, then it's going to affect us. And, um, I found the more I've kind of, um, stay away from certain foods, especially the empty calories.
Guy:                      And I mean, this is not an nutritional thing by any means, but it's definitely a discipline that I hold dear to. And, and I eat, well I would say 90 to 95% of the time. So do I have cheat meals anymore now? Not really. Do you have a piece of chocolate now and then? Absolutely. Do I have a glass of wine now and then absolutely. Uh, if I'm in a social environment and you know, the Shit's gonna hit the fan food wise, I might not eat or not. Or if I'm polite, I'll just carry food on my plate and nibble at it. Not really much if I'm in a social environment, but for me over the years, food has been pivotal. It really has. And, uh, and I urge you to start a look at that if you're not on top of that yet. And again, you've got to bring in the, a bit of humility to this cause after, uh, you know, eight years in the firing line in the health and fitness industry, sit down, consultation after concentration a concentration.
Guy:                      And I would have seen over a thousand people, must've been in the thousands and you know, thinking about it, looking back and nine out of 10 people told me that they ate relatively healthy. But when I broke it down, you know, I was getting there, I've seen a very different picture, you know, and uh, so it, you know, it a self analysis inquiries required anyway, don't know where I'm going with it, but eat well is number six. Uh, number seven, I get in nature, get in nature. Like I get in nature, I'm around it, I'm in it. You know, if you find yourself working in an office and a certain lights every day and environmental conditions and toxins and so forth, you know, trust me, I'd be now as I started life as a plumber, you know, um, again, we take it for granted that this is just the known, but when we get in nature it, ah, it's so soothing, so beautiful.
Guy:                      It reconnects you to yourself and everything and it brings more meaning into all it does for me anyway, just like me having that little ocean dip earlier and, and you might be going, yeah, but that's how few guy you live near the ocean and you can just go and do these. Or is there a park nearby or something, you know, but you only got to remember as well as is that I made a conscious decision that I wanted to set up the life I wanted to live a life that I didn't want to run away from or didn't want to escape from. That I wanted to live in a way that not like I'm on holiday every day. Excuse me. When you're on purpose, you know, you, everything's much more congruent. Um, there's much more meaning behind everything I do. Even the mundane stuff. And I wanted to set up a life where it was exactly that, that I had certain tick certain boxes.
Guy:                      You know, I live near the beach, I lived in nature. I could work on my own time, work on my own terms, and it took me, it took me years to get that, but I made conscious choices. But the very steps that I'm giving you to start practicing daily, to start maneuvering myself into the life I wanted to live. And the answers started to reveal themselves as I went. Okay. That's a lot of the concept of let it in. If you ever decide to come and join me in the program or the membership or retreat, you'll fully understand that. But for me, I would highly recommend it. And even if you can't just get up and get barefoot, take your shoes and socks off and have some sun on your face and feel it. It's uh, it's crucial. So I'm constantly putting myself in nature.
Guy:                      And number eight, this one's massive sleep. I sleep well. I make it a priority. I, uh, even though I get up, you know, God, these days it's before 5:00 AM, uh, to meditate. But, um, I make sure I get my eight hours. Some people function well on seven, some people function more, nine. Um, but I do generally, as long as I get my eight hours a night, I, uh, I'm good. You know, and, and if I'm not sleeping well, I start to investigate things that may be not allowing me to sleep well. But I think sleep is just critical and it's one of the big ones. If you could see with all this 12 I'm giving you, that makes you, you sleeps in place. And if not really start to dive into why it isn't. I start looking at that. Even if you go seek a professional help as well.
Guy:                      But you know, look at the room. Have you got light until coming in a, if you've got a lot of bright lights on in the evening and the house, you know, is your cortisol and Melatonin security and rhythms out. You know, there's so many factors to it. But sleep, I love it. I prioritize around it. I'm a Nana these days. It's because then I can really optimize myself, um, in the day. So sleep is a number nine. Uh, I'm very conscious of the people I surround myself with and this one can be a little bit tricky, you know? Um, but I find these days anyway, um, I just, I genuinely just attract positive people in my life. I'm around positive people. I'm around people that want to change. Um, I'm not around energy vampires too much that suck the life out with you. I'm sure you can agree that you could spend some time with people and you'd just feel whacked.
Guy:                      A, I know I did when I was working with people one-on-one a fair bit, but, but I mean this in, in, in a way that, um, even when I was trying to maneuver myself into the life I'm living now, uh, when, when times are certainly more difficult for me and I had more challenges, um, I was still very conscious of who I give my energy to of my time around. And if people were always on a negative loop and just wanted to be in those states, I, I generally never found myself wanting to feed that conversation and join in. And if somebody was putting somebody down, I never really enjoyed, you know, then getting caught up in that energy and putting other people down or, you know, I just, I just find that I put myself around people these days that aspire me to be a better version of myself.
Guy:                      You know, whether it be in relationships, whether it be in business, whether it be, you know, in all sorts of life. When we explore movement and health, I'm always around people that are gonna make me raise my game to a degree. You know, with respect, love and care and, and a good people. So, um, I think it's, it's critical. You know, the company you keep is uh, is a big one. So I would definitely, um, definitely look at that, you know, and uh, I certainly started removing people from my life in the past that, um, yeah, I felt were, were not helping me and that's fine. You know, you just, you just move on, you just move on. But once you start playing the blame game, if you're blaming other people, then you've got to really start to question yourself. Cause at the end of the day, we are in control of our own actions and our own choices and I believe we need to take a hundred percent responsibility for that.
Guy:                      Okay. Number 10, a gut health. This is another huge one. Just like sleep. I urge you to explore the gut. He got, um, you know, gut affects your mood. It affects your overall health and wellbeing. It affects everything. Um, they say even, I think it's always 70% of inflammation stems from the gut. And inflammation is, you know, a precursor to chronic disease. Like it's, it's a big deal. It's a big topic. And when I truly thought, you know what, I'm going to grab this and run with it. And I've spent years working on it. Really it's a process. Uh, it was for me and starting to look under the hood. Um, it had a great impact on me. My overall wellbeing and general, yeah. Temperament and everything. So, you know, if you're walking around feeling sluggish, you're inflamed, you know, it's, it's another symptom of, uh, that can feed into the whole, uh, essence of me.
Guy:                      So if, if, like I say, at the end of the day, if this is by energy output and being able to be on top of it and I've been able to run a business and empower and impact people, um, then, you know, one thing I do look after is my gut health. So, um, yeah, put it on the list if you're oblivious to it, if there's something not quite right. You know, I've seen, I've seen, I remember having a, a good friend of mine saying, I just don't know what's going on. My knees are aching, my, my elbows are aching. And, uh, and he was starting to get concerned about it cause I was training with him and he was, um, he went to the doctor and they wanted to prescribe prescribing certain pharmaceuticals and I said, hey, have you ever had you got tested for different bacterias?
Guy:                      I would actually explore that first. And he did. And Lo and behold, the other and certain bacteria parasite there. And um, and you know, within four weeks it was cleared up and he was feeling so much better. You know, I mean, that's just a random cases, so many different cases out there. But I would certainly, um, I would certainly use you to look at that. That's for sure. Okay. Number, we have a guard drum roll please. I sparse on a weekly basis. I spot. I know if you follow me on Instagram, uh, you probably see me Tonkin in a nice pass. Um, but I, there are so many health benefits to, um, I spot in if you want to get into the science of it all. I recommend a podcast I did with David O'Brien. I think it was at the beginning of this year. We did one on cold exposure and fasting, intimate and fasting.
Guy:                      Go back like 20 episodes or something. Um, to go in the nuts and bolts of it. But you know, it's a stress on the body, like exercise and movement to control stretcher s I don't sit there for 20 minutes, you know, a shiver for the rest of the day or anything. But overall for me, my wellbeing, my immune system, my state of mind, and, and even from a meditative perspective, it's been huge. And people think I'm crazy. Why are you doing that? And so forth. But when you start experiencing this, um, along with a breathwork practice, which I can kind of throw in a precursor number 12, uh, it's, it's huge. And that leads me into number 12, which is a breathwork practice as a well, um, I think breathing is a, is a fundamental condition. We were not very skilled at it. We're not taught about it.
Guy:                      Um, but it can, it can certainly help influence that nervous system. And, and a lot of these things I've mentioned today, a lot of 'em are about getting out to that stress response or that sympathetic back into our parasympathetic way of being that rest and digest and repair. And quite often we're so familiar with the stress state, we just assume it's this is the norm and it doesn't have to be. And a good breathwork practice can actually start to really bring that awareness around yourself, the body, the way you breathe and the nervous system and bring it back into parasympathetic. I generally, you know, have different breathing techniques and different practices that do, which I won't get into today. I, there's a podcast that did with Dan Brulay. We go fully into death breathwork. Uh, that's sometime last year. I can't remember which episode number, but um, it's something I certainly encourage you to bring into your, into your life.
Guy:                      And it's something that I do. Um, you know, with the cold exposure and breathwork practice as well. Um, I do have the, my five step morning routine, uh, which is a free pdf. You can download a back of Galore and Stockholm Donahue as well. So even like I mentioned at the start, number one with the gratitude practice, um, when you download our free meditation, it will come with my five step routine, which I talk about as a nice little way to get started. There's a certain breath technique in there plus a, I go into a little bit of um, cold exposure, you know. So let's recap what have I got? So from gratitude, meditation, move, exercise, then there's a growth mindset. I'm already doing. Hell yes these days I eat well. I get in nature often I sleep well. A, the people I surround myself with is very important to me these days.
Guy:                      A gut health, ice bath and breathwork. Wow. Not a bad list. Try them out. Let me know how you go. Like I said, if you got them written down, contemplate on it. What do these things that you bring in into your day, Clallam out for months if you like them. I'm sure you have different practice. To me, but you can see where I'm going with this and I feel they will certainly lead you to a better you and from a better you and better state of being. We can make better conscious decisions to embrace our lives and let it in. A lot more leather than shit. That reminds me, I almost forgot a getting stuck into this. Uh, if you listen to this, I am running a four week program, uh, Interactive July 29th. So the doors are going to be out in front of about five or seven days, uh, before then.
Guy:                      So from about the 20th of July onwards, uh, for about a week or so, uh, to on board. And then, uh, you can, you can join a community, people for the letter in program where I'll be taking, taking people through the, uh, with a program. Uh, I have a how to embody this work, this meditation and uh, starting to put an infrastructure around, um, and demystify and meditation and Change. Hundreds of people have gone through it. It has huge impact. Uh, it's, it's helping people create change in their lives. And, uh, you know, if you're ready, you want to give it a goal and why not come and join this whole? So, uh, all you need to do is subscribe to my newsletter. It's not too late. Just come back to [inaudible] you, you'll hear about it. Or if you follow me on social media anyway, hope you enjoyed, let me know how you went with this. Let me know if you're in Brent body and or breast in any of these things. What made sense to you? Uh, Instagram is the best place guyhlawrence.
Guy:                      Tag me on air, direct message. Me, I'd love to hear from you. And I love knowing these podcasts, reaching. Awesome guys hope you enjoy this all. And I'll see you soon. Much love from me.